Halfway there
First leg of pacific trip takes 99 days
One million oar strokes after leaving San Francisco, solo sea traveler Roz Savage rowed into Waikiki Yacht Club and, before anything else, gave her mother a hug.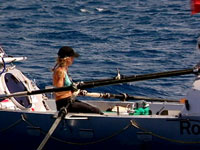 Roz Savage finally arrived in Hawaii after rowing solo for 99 days from San Francisco.
Savage, 40, arrived yesterday after finishing the initial leg of her attempt to become the first woman to row solo across the Pacific, 99 days after departing the West Coast in a 24-foot rowboat. She was greeted by a crowd of media and supporters.
"There's a very special lady that I have to give a big hug to," Savage said as she stepped barefoot onto a floating pier to greet her mother, Rita Savage. "It's very good to see you."
Throughout the journey, Savage's mother has been working several hours a day to help her daughter update her blog.
"It's great to see her looking so well and sounding so happy, too," said Rita Savage, who came to Hawaii from England.
She said her daughter had an ordinary life before she rowed solo across the Atlantic Ocean in 2006. "I've got used to it," she said of her daughter's adventures.
Wearing a black baseball cap, turquoise top and black capri pants, Roz Savage said she made the 2,400-mile row to raise awareness of marine conservation, particularly plastic pollution getting into the ocean.
A portion of Savage's trip was through the southern part of the North Pacific Gyre, which has been described as a mass of plastic debris floating in a circular current stretching between California and Japan.
"It's taken me about a million oar strokes to get here from California," she said. "If I just said, 'One little oar stroke isn't going to make any difference,' I'd still be standing in San Francisco.
"What I really wanted to do was let people know they can make a difference. Every action counts."
She hopes her journey will get people thinking about reducing their use of plastics, which can end up in the oceans and leak toxins into the fish that eat it.
With a deep tan, Savage had the wiry build of a marathon runner. Her eyes were faded gray from days at sea.
On the pier, she toasted, "To the oceans," and sipped champagne from a plastic glass, her first cold drink in months. "Ah. That is nice."
She was looking forward to washing her hair, sleeping in a large bed that does not rock, and bathing in fresh water. She also wanted to eat in a restaurant, she said.
It was her second attempt to cross the Pacific. Last year the first attempt ended when her boat capsized three times within 24 hours, 10 days after departing. This time, she rowed the Brocade, her 1,200-pound boat named after her sponsor, through 20- to 25-foot seas.
Savage rowed about 12 hours a day to reach Hawaii, eating expedition meals and nutrition bars and growing her own microgreens on board.
This trip, she used some lessons she learned while rowing across the Atlantic, such as how to combat boredom and find motivation.
To motivate herself, she rowed two-hour shifts, then rewarded herself with food. She fought boredom by listening to audio books.
In six months she will depart for the second leg of her trip to Tuvalu. Before then she will spend time in California, England and Hawaii, where she hopes to learn about Polynesian navigation.
Savage plans a little more alone time while on land.
"One of my favorite things in the whole world is to sit in a coffee shop with an iced latte and my diary and just journal," she said. "I'm looking for a bit of a debrief session."