Man dies in park shooting
A suspect is loose after a victim is slain in a fight near Magic Island
An 18-year-old Kalihi man died of gunshot wounds early yesterday morning after a brawl at Ala Moana Beach Park, police said.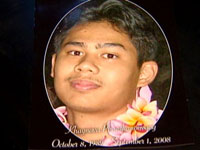 An 18-year-old Kalihi man is dead after a fight escalated to a shoot out at Ala Moana Beach Park.
The Honolulu Medical Examiner's office identified the man as Khaynava Phanthanouvong.
Police said Phanthanouvong was with a group of about five friends at a party when he agreed to meet another man for a fight.
According to detectives, Phanthanouvong and a 19-year-old man got out of a car and approached two other men. One of the men shot him, and the other hit his friend with a bat.
The suspect then fired several more shots at the victim and his friends, police said.
Police responded to a call at about 2:40 a.m. of a large group fighting near Magic Island and a report of shots fired.
Patrol officers checking the area found four men who were involved in the brawl across the street at Ala Moana Center, said Honolulu police Maj. Alan Bluemke.
The four men were witnesses and are not suspects, he said.
Police have made no arrests.
Bluemke said about 10 to 15 people with the suspect had been arguing with a group of about five men with the victim before the gunshots.
The victim had two gunshot wounds and was driven to the Queen's Medical Center by a friend. He died at 2:50 a.m., police said.
Bluemke did not have details about the kind of gun used or how many shots were fired.
The suspect is described as having a stocky build, about 5 feet 4 inches tall and wearing blue jeans and a light-colored T-shirt with print on it.
Tommy Chan, who lives at the beach park, said he was sitting in the morning at a bus stop on Ala Moana Boulevard when he heard gunshots. He heard two shots, then, about 10 or 20 seconds later, another two shots.
After the gunfire a car peeled away, heading Diamond Head-bound on Ala Moana Boulevard, he said.
Chan said he did not know the sounds were real gunshots until police arrived. He thought they were shots from a pellet gun.
Police closed off the Diamond Head entrance to Ala Moana Beach Park and reopened it by 9 a.m.