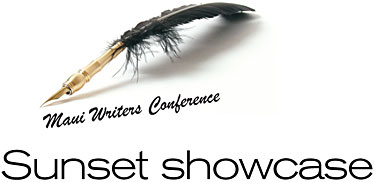 Oscar winner Robert Moresco debuts his latest film on the beach as part of the yearly writers festival
When Academy Award-winning writer/producer Robert "Bobby" Moresco walked across the sand in front of the movie screen at Sunset on the Beach on Saturday night, he gazed at the crowd gathered to watch the film he'd made with his daughter, and assessed the evening with a screenwriter's sparing prose: "This is so cool," he said, shaking his head and grinning. "This is amazing."
For 16 years the Maui Writers Conference has been the go-to series of seminars for successful authors and would-be scribes to learn, network and infuse their keyboards with inspiration. But this year the Labor Day weekend gathering moved to Oahu and reached out to the local community.
"Our primary mission has always been to bring literature and publishing to the people of Hawaii," conference founder and director John Tullius said.
This time, they did it in the form of a colorful, outdoor premiere of a movie slated for national theatrical release at Christmas. "The Kings of Appletown," starring Dylan and Cole Sprouse of Disney's "Suite Life of Zack and Cody" fame, seemed to please the teens and tweens in attendance with amusing dialogue and exciting chases on motorbikes and jet skis. Tullius pleaded with viewers to avoid sharing the outcome of the comedy/action flick.
The movie had been in the cutting room only two weeks earlier, making the sneak peek even more special. "We jumped a lot of hurdles to make this happen," Tullius added. It started with a long-standing relationship with Robert Moresco, teaching at the retreat and conference for his third year. This time, however, he directed the movie, which was written by his 33-year-old daughter, Amanda Moresco, who found Sunset on the Beach the ideal venue for her feature film debut.
"It's a family film, and this is a real family experience," she said. Because Amanda and her 57-year-old father have worked together for six years, they "know how to separate the emotional from the work," she laughed. "But it's always exciting because my dad's top notch. ... If you're going to trust your writing with anyone, you're going to trust it with someone who's not going to let one thing slide. I couldn't ask for anything more."
Michael Palmieri, director of the conference's screenwriting retreat and seminar track, met Robert when Palmieri was an executive at Paramount about 17 years ago. "He always had great characters and dialogue in his scripts," Palmieri said, "and I was impressed by his authenticity. He had no pretense."
The Maui Writers Conference always attracts marquee names willing to share their wisdom in a tropical setting. This year, 18 New York Times best-selling authors and a Pulitzer Prize nominee presided over an extensive list of accomplished but always accessible publishers, editors, agents, authors and consultants. And most of them, like Robert Moresco, remember how it feels to be on the other side.
Tullius said Robert grew up in Hell's Kitchen in New York. He started his career as an actor, and struggled for 35 years before hitting it big with "Crash," which won Academy Awards in 2006 for screenwriting and for best film. He remains a teacher at heart, and founded the Actor's Gym theater company in Los Angeles to help people develop their skills. According to PBS, he has produced and/or directed more than 35 theatrical productions.
"He brings his humanity to this," Tullius added. "He's a very open, down-to-earth guy."