---
A WEEKLY DOSE OF HULA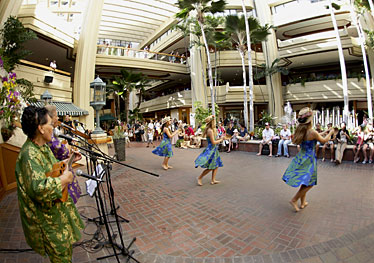 ENTERTAINMENT
Don't underestimate the draw of Doodlebops
Don't know the Doodlebops? You must be old - say, 12.
If you're in the Doodlebop demographic - which hovers at kindergarten and below and incorporates parents, teachers and other supervisors - you're likely to be on familiar terms with Deedee, Rooney and Moe Doodle, in all their blue, orange and pinkish-purple cheerfulness.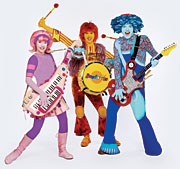 The made-in-Canada Playhouse Disney television show comes to Honolulu Sept. 26 to 29 in the midst of a North American tour. Ticket sales for the Blaisdell Concert Hall appearances have gone so briskly that four shows have been added.
New public performances are at 5:30 p.m. Sept. 27 and 28, and 7 p.m. Sept. 29, plus a school show at 12:30 p.m. Sept. 26. Tickets go on sale at 10 a.m. Friday at the Blaisdell Box Office and Ticketmaster outlets. Call (877) 750-4400 or visit www.ticketmaster.com.
For information on the school show, call 487-8801 or e-mail morefun@hawaii.rr.com.
Tickets for the previously announced shows are already on sale at the same outlets. Shows are at 7 p.m. Sept. 26 and 11 a.m. and 2 p.m. Sept. 27 and 28.
Tickets are $14 to $55, with discounts for groups of 10 or more.
Great Scots! Put on a 'Kilt'!
The St. Andrew Society of Hawaii hosts "Dressed to the Kilt," a celebration of Celtic culture, at 6 p.m. Sept. 20 at the Hawaii Prince Hotel.
The event will include bagpipe music, scotch tasting, dinner, a Celtic fashion show and the performance of an audience-participation comedy, "The Scottish Sailor."
Cost is $70, $30 children, with reservations required by Monday. Call 381-7216 or e-mail saintandrewsociety@hawaii.rr.com.
Contest invites hapa-haole acts
Wacky is good; wicky-wacky is better, as performers prepare for the Hapa Haole Hula & Vocal Soloist Competition in October.
Kumu Hula Vicky Holt Takamine and the PA'I Foundation are accepting applications for "wicky-wacky" acts in various group and solo categories.
The competition, set for Oct. 10 at the Hale Koa Luau Gardens, commemorates the era of hapa-haole music.
Top halau and soloists will win cash and prizes. To apply call 375-0847 or e-mail kahai.pai@gmail.com. The application deadline is Sept. 12.
Youths with ukes sought by Duke's
Teen ukulele players are invited to audition for the Duke's Waikiki Third Annual Duke's Ukes Contest, 9 to 11 a.m. Sept. 13 at Duke's Waikiki, Diamond Head Room at the Outrigger.
Nonprofessionals ages 16 to 18 will compete to win Kamaka ukuleles and other prizes.
The overall Duke's Ukes Contest will take place from 10 a.m. to noon Sept. 27. Call 922-2268.
WEDDING FOR A WISEGUY