HURRICANE GUSTAV
Evacuations orderly as storm nears
Katrina images resonate as isles prepare to help
STORY SUMMARY
|
READ THE FULL STORY
NEW ORLEANS » With a historic evacuation of nearly 2 million people from the Louisiana coast complete, gun-toting police and National Guardsmen stood watch last night as rain started to fall on this city's empty streets.
The storm was set to crash ashore as early as this morning with frightful force, testing the three years of planning and rebuilding that followed Katrina's devastating blow to the Gulf Coast.
Painfully aware of the failings that led to more than 1,600 deaths during Katrina, officials moved this time beyond merely insisting tourists and residents leave southern Louisiana. They threatened to put looters behind bars, loaded thousands onto buses and warned that anyone who remained behind would not be rescued.
NEWS SERVICES
---
---
FULL STORY »
Three years ago the Ewa Beach Little League team won the World Series. A day later, Hurricane Katrina devastated New Orleans.
By uncanny coincidence, another Hawaii team -- the Waipio Little League -- is basking in its World Series victory even as the Gulf Coast braces for another storm, Hurricane Gustav, that carries the potential of destroying much of what has been rebuilt.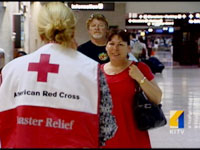 Hurricane Gustav is not slowing down anytime soon, many Hawaii volunteers are flying to the mainland to help the American Red Cross.
At least 11 members of the Hawaii chapter of the American Red Cross will help with the relief operations. Some are going to Texas, while others are heading straight to New Orleans.
"We're telling our volunteers that this may be an emotional assignment because they are going into an area not only impacted by a major hurricane, but it's also the hurricane's anniversary," said Jennifer Walter, a Hawaii Red Cross spokeswoman.
For some Hawaii residents, the fear of Hurricane Gustav hitting Louisiana today resonates louder as they recall the destruction by Katrina.
"It's pretty emotional for us here right now," said Doreen Kitagawa, one of four Honolulu emergency workers in New Orleans for a convention when Katrina hit on Aug. 29, 2005. "We know people there now. When I heard about Gustav, I thought, 'Oh no, here we go again.' It sounds like this one might be worse than Katrina. The good part about it, in a sense, is that everybody in New Orleans is prepared, and the evacuation process has gotten a lot faster."
Kitagawa, along with paramedics Jill Takayama, Melinda Shiraki and emergency medical technician Rochel Ortiz, were thrown out of their hotel days after Katrina hit. They stood on the street with their luggage with nowhere to go except to the Superdome, which served as problematic shelter for thousands.
On their way to the Superdome, passing bodies floating in the floodwaters, the women ran into New Orleans' then-police chief and told him they were paramedics.
"They took us to their hotel and got us a vehicle to take us to Houston," Kitagawa recalled. "We were so grateful to them. They treated us so well."
Five days after Katrina hit, Kitagawa and the rest of the group left New Orleans, but the memories have stayed.
Shiraki and Kitagawa returned to New Orleans earlier this year for the Sugar Bowl, when thousands of Hawaii fans watched the University of Hawaii football team play for the first time in a major bowl game.
"It was great to go back," Kitagawa said. "I wanted to see the changes. There were parts that weren't fixed, but it's a beautiful place. We were planning on going back again. We just don't know how different it could be after this."
Andy Winer, a local attorney who is also the leader of Hawaii's presidential campaign for U.S. Sen. Barack Obama, helped law students displaced when Katrina forced universities to shut down. Winer helped to accommodate 18 New Orleans law students, who received internships and free housing.
"It's kind of the same situation, almost identical to three years ago," Winer said yesterday from Las Vegas, where he is campaigning for Obama with U.S. Sen. Daniel Akaka. "If it turns out as bad as Katrina, I told Tulane University we'd be ready to help. We're a long way from New Orleans, but we have a history of helping."