Hawaii's
Back Yard



---
Laborers' cottages provide repose
At Waimea Plantation Cottages, not only can you learn about life on a Hawaiian sugar plantation in the early 1900s, you also can live it!
Walk the grounds of this oceanfront resort in West Kauai and you'll feel as though you've been whisked back in time to the Hawaii of yesteryear.
WAIMEA PLANTATION COTTAGES
» Address: 9400 Kaumualii Highway, Waimea, Kauai

» Call: 338-1625 on Kauai, (866) 774-2924 from the other islands

» Rates: Begin at $220 per night; guests receive the fourth night free and an Aloha Book containing discounts on attractions, shopping and dining on Kauai

» E-mail: info@waimeaplantation.com

» Web site: www.waimea-plantation.com

» Notes: Starting at $176 per night, the kamaaina K-Class Pass includes free parking, free cottage upgrade and a 2 p.m. late checkout (the normal checkout time is 11 a.m.). It's good through Dec. 23. The resort's A Hideaway Spa offers a full range of salon and beauty services, including massages, facials, body wraps and hairstyling. Choose any three or more services and receive a 10 percent discount. Call 338-0005 or peruse www.ahideawayspa.com. Waimea Brewing Co. offers seven different beers brewed on site and a great lunch/dinner menu. Call 338-9733.
First, there's the peace: Your reveries are broken only by the chatter of birds, the sound of trees rustled by warm breezes and the rhythmic rush of waves on a long stretch of black sand.
Then there's the beauty: Palms, plumeria, hibiscus, bamboo, banyans and more fringe expansive lawns that are perfect for picnics.
Nowhere else in Hawaii can you stay in cottages that actually housed West Kauai sugar plantation workers a century ago. All have been completely restored and furnished with modern conveniences such as phones, cable televisions, DVD players and clock radios. The kitchen is fully equipped, right down to the rice cooker, microwave and blender.
Period furniture crafted from mahogany, rattan and wicker, and decorative touches such as wooden washboards, glass milk bottles and hand-cranked coffee grinders, add to the 58 cottages' nostalgic appeal. No two interiors look exactly alike.
Waimea Plantation Cottages traces its beginnings to sugar pioneer Hans Peter Faye, a savvy entrepreneur who immigrated to Kauai from Norway in 1880. While employed as the manager of Kekaha Sugar Co., he began acquiring shares of neighboring Waimea Sugar Mill Co. in 1905 and became its sole owner by 1911.
Faye's other ventures included a 27-acre seaside coconut grove planted in 1922, which he planned to use for copra. That business never materialized, and those trees now shade the resort's cottages.
Landowner Kikiaola Land Co., founded by Faye's heirs, moved the cottages to the site between 1983 and 1992 from their original locations at Waimea Sugar Mill Co. and Kekaha Sugar Co. (both now defunct). Most of the renovations also were completed during that period.
A plaque at each cottage's entrance bears the name of either a plantation worker or a plantation work term such as pulapula (sugar cane cuttings) and hapai ko (to carry sugar cane bundles on the back).
WHEN MY boyfriend Rick, his 14-year-old daughter, Keely, her friend Stephanie and I checked into Cottage No. 78, we noticed the name Justo Domingo by the door. We later learned he was a Filipino immigrant who worked for Waimea Sugar Mill Co. from 1924 to 1958.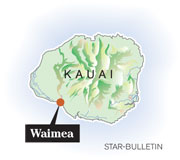 Before they outgrew the space, Domingo and his family lived in "our" cottage. He and his wife had 10 children; all but one of their seven children who survived to adulthood also worked for Waimea Sugar Mill Co.
Without any high-tech distractions, our stay was simple and carefree. We napped on the porch, read books we hadn't picked up in weeks and barbecued hot dogs and teriyaki beef on a charcoal grill provided by the resort (Ishihara Market in nearby Waimea town has the best selection of poke and marinated meat, chicken and fish on Kauai).
Complimentary croquet, shuffleboard and beach volleyball equipment was ours for the asking, as were Monopoly, Scrabble, Clue, chess, checkers and other board games. The hammocks strung between palms beside the sea topped the list of amenities.
We loved being "away from it all," but it was nice to know that if we wanted to plug back into reality, we could tote our laptops to the administration building and use its free Wi-Fi connection.
Until we visited Waimea Plantation Cottages, we'd usually vacationed in big hotels with as much hubbub as home.
Our stay there proved a getaway without golf, shopping, gourmet dining and night life could be the most memorable of all.
For history buffs
Waimea Plantation Cottages' administration building (encompassing the reception area, gallery and gift shop) was built in 1884 as the residence for Hans Peter Faye and his family. Originally set amid the cane fields of Mana, 10 miles away, the stately house was a film site for the 1983 television miniseries "The Thorn Birds," starring Richard Chamberlain and Rachel Ward.
Kikiaola Land Co. purchased the house in 1990 and moved it by truck in several pieces to Waimea two years later, where it became the centerpiece of Waimea Plantation Cottages. A bedroom was designated for the Faye Family Museum.
Among the notable pieces on display is a table carved from koa trees at the house's original location. Historic photos came from the collections of four generations of Fayes. Art by family members include watercolor paintings by Ida Faye Robertson Dawson, a family tree and a drawing of the sugar mill by Paul Robertson, and contemporary watercolors by Christine Faye, who's the curator of the Kauai Museum in Lihue. One of Hans Peter Faye's great-granddaughters, she organized the artifacts and wrote the descriptions for them.
The museum is open daily from 9 a.m. to 5 p.m. There is no admission charge.
Faye conducts a 90-minute walking tour of Waimea Sugar Mill Co.'s old camp, which is adjacent to the resort, on Tuesdays, Thursdays and Saturdays. The tour leaves from the lobby at 9 a.m. and costs $10 for those 14 and older. Reservations are required and can be made by calling 337-1005.
Cheryl Chee Tsutsumi is a Honolulu-based free-lance writer and Society of American Travel Writers award winner.