SUNDAY TRAVEL
John Gray Rides Again
The legendary waterman leads kayakers on an adventurous cruise amid Thai islets
STORY SUMMARY
|
READ THE FULL STORY
John Gray paddles the Heritage Featherlite two-seater while I ride shotgun in the kayak's prow armed with the professional paddler's Nikon. It's a sunny afternoon during the final voyage of a three-day sea canoe expedition in Thailand's Phang Nga, a bay punctuated by 120 surreally shaped limestone islets. Gray is "test driving" the new kayak to see how this baby handles at sea.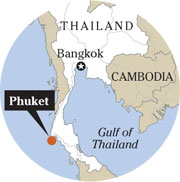 Rounding a point at Koh Hong, an exquisite isle in Krabi province, near where Leonardo DiCaprio shot 2000's "The Beach," the veteran waterman warns, "Put the camera in the dry box."
Quickly I place the Nikon, mounted with an expensive telephoto lens, into the supposedly waterproof case, which Gray paid $150 for 10 years ago.
Suddenly we're in the open sea, white caps smacking our kayak. We're in the chop; our sea canoe turns into a nautical teeter-totter. Gray, the longtime mariner, shouts commands, but I'm a landlubber. The last time I'd paddled was with him, almost 20 years earlier, down the Molokai Express and up Kahana Valley.
Our kayak takes on water; waves crash into us; we capsize. The boat's upside down, but somehow I clutch the dry box, lifting Gray's camera above the surging sea.
Down the coast, paddlers in two kayaks that are part of our sea trek see what's happened. Sonthaya, a Thai guide working for John Gray's SeaCanoe, turns his solo craft, double-blading it double time toward us. Unable to right the boat, we clasp onto it as "Sony" reaches us and I pass the dry box to him. Gray tells me to lash our kayak to Sony's so he can paddle back to where the expeditionary ship's anchored, deposit our waterlogged kayak and return with another, more seasoned, seafaring sea canoe. But Sony can't make headway against the powerful current. Gray signals Paul and Tyler Smith, tourists from Utah along for the ride, to paddle back to the motorized ship. The father and son make a U-turn, round the bend and vanish.
Meanwhile, we're drifting out to sea. I suppress thoughts of sharks and jellyfish. Indeed, while literally cooling our heels in the deep and floating away toward open sea, I'm not merely unafraid, I'm positively jaunty. Not only are we clutching a kayak tied to Sony's steed, but also the invincible John Gray floats beside me. Nicknamed "Caveman," Gray -- the kind of colorful character William Somerset Maugham or James Michener would write about -- has mythic stature in Thailand as the first man to chart and explore Phang Nga's islets and sea caves, where he introduced kayaking in the early 1990s.
We're wet yet laughing as the wooden vessel appears on the horizon, full steam ahead, almost ramming us. The crew hauls our kayak out of the drink, lashing it above the cabin. We clamber aboard and open the dry box; Gray has finally received his money's worth: There isn't a drop of water on his Nikon.
Soon, Caveman announces it's safe for us to return to the ocean; but I decline. Undaunted, Gray unlashes a solo sea canoe and nonchalantly continues paddling on his merry way.
SPECIAL TO THE STAR-BULLETIN
FULL STORY »
In late 1983 I was in a two-man sea canoe with John Gray, paddling the Molokai Express as part of a three-day, two-kayak expedition. This was one of the greatest adventures of my life, among the most fun I've ever had without wahine around.
The Molokai Express is named after the swiftly flowing tradewind ocean currents running parallel to the Friendly Isle's Koolau Coastline, unimpeded by reefs. After blasting off from Cape Halawa through the surf's foam and spray, it was smooth sailing down Molokai's northeastern shore, past the world's highest sea cliffs and Hawaii's tallest waterfall. En route, there's little evidence of mankind's impact; at Haupu Bay we rode waves into sea caverns inhabited by terns found nowhere else on Earth.
Toward the sojourn's end, majestic Kalaupapa, one of the Pacific's most beautiful sights, loomed before us. Gray informed me there'd be no soft landing; the surf would carry us to a shore festooned with boulders. I opted for paddling back to Cape Halawa against the tide, but he waited for precisely the right wave and we put our backs into it, riding the surf above the boulders toward Kalaupapa. There, as if on cue, Richard Marks, Kalaupapa's sheriff, waited for us in the yellow school bus that served as the colony's mass transit, and carried us with our kayaks up to the village where Father Damien had ministered to the suffering.
In April 1990 the San Jose Mercury News published my story and photos of Gray and his Pacific Outdoor Adventures. Pleasant Hawaii, a now-defunct magazine, reprinted a version of my story. But by then the paddling pioneer had bid Hawaii "aloha 'oe."
Thailand calls
John Gray was born in 1945 at Newport Beach, first learning his love of the sea at that coastal Southern California town, where he started swimming at 6 months old and kayaking at age 5. Raised by nature lovers, Gray learned other lessons from his mother; the windows of her home were smashed, he says, after Ruth criticized the World War II internment of people of Japanese ancestry. She continued to resist prejudice in the military when her husband, an officer in the occupation forces, took the family to postwar Japan, where they lived off base for two years in a traditional fishing village.
After a Navy stint aboard a nuclear submarine during the 1960s and graduating from UCLA in 1974 with a political science major and film minor, Gray moved to Hawaii. Wishing to behold what he believed, the early environmentalist sought a natural nirvana but came face to face with the 50th State's late-20th-century realities.
In Honolulu, Gray pursued a corporate career path in public relations and marketing for the University of Hawaii Cancer Research Center, the Hawaii Employers Council, Aloha United Way and other organizations, until the untimely death of a mentor led Gray to make a major life change.
In 1983 the waterman attempted to make a living doing what he loved, and established the first of his several kayaking companies. Gray's philosophy of the sea was expressed in a Phuket Bulletin interview: "When a farang (haole) stands at the seashore, he sees the end of land. When a Hawaiian stands at the seashore, he sees the beginning of the ocean."
Gray led sea treks down Kauai's Na Pali Coast, from Oahu Chinaman's Hat to Kahana Bay and Waikiki by starlight. Gray wanted to find his little grass shack, but because he couldn't find it in Kealakekua or elsewhere in Hawaii, where fire codes ban traditional Polynesian huts, the restless kayaker moved on. Soon he was romping around Phang Nga (pronounced "pang nah") Bay at Phuket, the southern Thai island. The 1974 James Bond movie "The Man With the Golden Gun" opens at Koh Ping-gan (now "James Bond Island"), one of the stunning limestone islets jutting out of jade seas. The duel between Bond (Roger Moore) and hit man Scaramanga (Christopher Lee) starts on Koh Ping-gan's sands.
The movies may have discovered Phang Nga, but paddling to remote isles, Gray went where "only bird nest collectors" had been.
"I was the first guy to explore them, the first in the lagoons (enclosed within many of the limestone formations), to map the sea caves and 'hongs' (rooms) in a significant way. I was the first to explore in a scientific fashion, to catalog wildlife and the rocks, to time the tides. I am the founder of Thai sea canoeing and the first to commercialize kayaking," said Gray, whose bold assertions are confirmed by many Thailand tourism industry professionals.
Bryan Hoare, wellness director of the new Six Senses Destination Spa on Naka Yai isle, about a mile from Phuket's pier, where one of Gray's expeditionary vessels is moored, states, "He has a very good reputation."
Indeed, Gray has become a legend in Phuket. Peggy Peterka, the Los Angeles-based marketing manager of the Tourism of Authority of Thailand, the country's counterpart to Hawaii's HVCB, calls John Gray's SeaCanoe Phuket's "best" kayaking operation in terms of itinerary, treatment of passengers and food.
Melida Weber, resident manager of Destination Spa, which offers guests panoramic views of Phuket and Phang Nga isles, added, "I've been kayaking twice. It's fantastic, so peaceful, so natural. He puts a limit on the number of boats," which now swarm more commercialized places such as Bond Island, which Gray avoids.
The 6-foot-4 Gray earned the nickname "Caveman" because of his penchant for canoeing through sea caverns, as well as his "Neanderthal" physique. The bearded Gray, whose hair hangs to the middle of his back, is also affectionately called "Ling Yai," meaning "Big Monkey."
John Gray SeaCanoe is the third incarnation of his kayaking companies in Thailand, where he's experienced fallings out with local counterparts at least twice. Naming the company after himself helps ensure Gray won't get ripped off by others profiting from his reputation. John's wife of 17 years, Amporn, is his business partner.
But Gray has been successful enough to build that little grass shack on a compound in Phuket's countryside, which he shares with Amporn, 15 yapping mutts and a collection of injured beasts (including, over the years, a python and eagle) that rehabilitate in ramshackle quarters, a series of wooden structures in the jungle. Of course, one man's shack is another's chateau.
Adventures in Kayaking
In June I embarked on another three-day sea trek with Gray at Phang Nga. This trip marked the first time I'd seen Caveman since the mid-'90s, when he'd visited me at Makaha during a trip back to Oahu.
We meet aboard his skiff, filled with Australian, European, American and other tourists. Shortly after casting out to sea, a sumptuous lunch of Thai food is served and an English-speaking guide named Mario wittily briefs passengers while we head toward Phang Nga isles with exotic-sounding names, including Koh Penak (Easy Chair), Koh Roi (equivalent to "ono" in Hawaiian) and Pak Bia. We enter the islets' interiors via passages or, more dramatically, through sea caves, which often require paddlers to use flashlights and bend low to avoid getting scraped by the low-hanging cavern roof or struck by stalactites. (There are fewer stalagmites.)
The gloomy caves open up to radiant hongs, roofless round watery spaces enclosed by verdant vertical walls. On an outcropping of rocks is a tribe of long-tailed macaques, as curious about us as we are of them. For 30 minutes the two species encounter and contemplate one another. The small, grayish monkeys are adorable and agile. When they scamper on land, the baby monkeys cling, upside down, to their moms' bellies. But when the mother macaque jumps into the lagoon to fetch a banana, the baby rides on its parent's back as she swims toward the floating fruit.
The bananas have been tossed by sea canoers from another company. In his outspoken manner, Gray, who's hanging back in the kayak pack, disapproves of feeding monkeys bananas, which don't grow at Phang Nga's far-flung islets. He also warns against allowing the cute beasts aboard kayaks; during the voyage I see a yawning macaque, revealing formidable fangs. I'd hate to tell a kayak-prowling hungry monkey, "Yes, we have no bananas."
This is the best simian sighting of our excursion, although we see primates at every hong, usually from afar, sometimes scaling vertical cliffs like Oz's gravity-defying winged chimps. Other wildlife glimpsed included 3-foot-long (not including tail) monitor lizards, which grow up to 9 feet long; mudskippers; numerous butterflies; and a white-bellied sea eagle with a 6-foot wingspan. At each hong, Gray regales listeners with geological and other information about their serene surroundings.
The loquacious Gray loves kayak-yakety-yak. If a story is interrupted, he eventually returns to the point he left off to complete his yarn. A favorite rant is how the international media allegedly exaggerated the effects of 2004's tsunami on Phuket, which, as far as I could see, largely recovered from the wave.
Although most companies offer briefer forays, Gray's "Hong by Starlight" continues into the night. Following a sunset seafood dinner aboard ship, passengers aided by guides create "krathong" -- offerings festooned with flowers, candles and incense -- which are released on the water, floating away into the Thai night silence.
After the Buddhist "loi krathong" ritual, or festival of lights, the expedition returns to Phuket, although John and I forge on to a campsite at Koh Nok (Bird Island), where we join the Smith family, who have chartered John Gray SeaCanoe to take them through Phang Nga. The next two days consist of kayaking through the sylvan glade and Arcadian bliss of eco-topian oases. At times, Paul Smith wears an expression filled with wonder, as if he's a little boy again seeing the world with fresh eyes. Far from Salt Lake City's urban stress, his wife, Janet, emanates tranquility.
On our third day, before our final fling into the ocean at Koh Hong, Paul and I discuss our adventures in Thailand. I remark how, after more than three weeks, nothing has gone wrong for me -- no crime, car accidents, illness, etc. Gray and I promptly proceed to take the plunge.
Return to Hawaii
This year marks the 25th anniversary of Gray's professional kayaking operations, which he began in 1983 in Hawaii. As of this writing, Gray's silver-anniversary celebration will kick off with an October expedition to Vietnam's Halong Bay, which he swears is even more stellar than Phang Nga. Subsequent excursions will paddle at or near Burma, Malaysia, Palawan and Puerto Princesa (in the Philippines), New Caledonia, Reunion (in the Indian Ocean), French Polynesia (possibly including the Marquesas) and, of course, Thailand.
Gray will return to where it all began in Hawaii by August 2009, with an expedition he's calling "In the Footsteps of Hi'iaka," following a route blazed by volcano goddess Pele's sister down the Big Island's Waipio Coast. The intrepid explorer also plans a jaunt to Maui and on to Molokai. Another sea trek will experience Kauai's Na Pali Coast. Each Aloha State sea-fari will last about one week.
I can't help but ponder how long Gray can continue sea canoeing. Today the ecotourism pioneer has gained weight, and his swollen ankles -- due to rugby, he says -- give him trouble walking. The 63-year-old's receding hair and beard have turned white and gray. But the siren song of odysseys yet to be paddled still lure him, and to paraphrase the Russian poet Vladimir Mayakovsky, "There's no gray hair in John Gray's soul."
Ed Rampell is co-author of "Made in Paradise," "Hollywood's Films of Hawaii and the South Seas" and "Pearl Harbor in the Movies." The longtime Hawaii resident now lives in Los Angeles.