'Deficient' bridge stalls traffic
A Kalihi Valley bridge has been narrowed to one lane of traffic after it was determined to be "structurally deficient" by the city's Department of Design and Construction last month.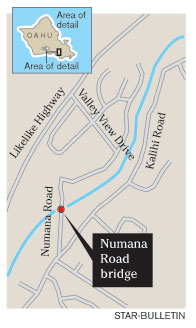 "We've determined that the load it could carry was in the area of 4 tons," said Eugene Lee, the department's director. "It's just basically a corrosion problem."
Narrowing the Numana Road bridge limits the number of vehicles on the bridge at one time, and it's also caused some headache for residents, who have to yield to oncoming traffic.
Who goes first is sometimes anyone's guess, said 44-year-old Isa Danielson, who lives right next to the bridge.
"There are a couple of times where two people just start eyeing each other," Danielson said. "Sometimes I see two cars on the bridge. They'll be playing 'Who's gonna go first?'"
Danielson also said drivers often don't read the "yield to oncoming traffic" sign and has seen many close calls from head-on collisions.
The city is in the design stage to retrofit the bridge over Kalihi Stream and it is uncertain when improvements will be completed, Lee said.
"We have an emergency design contract to provide some interim improvements with the intent of increase that load up to 15 tons," Lee said.
Numana Road resident Analou Landiza hopes the construction doesn't mean closing the bridge for too long. She has a fifth-grade son who attends Puuhale Elementary School and crosses the bridge every day.
If they closed the bridge, she would have to drive to Likelike Highway to get out of her neighborhood.
"It's not easy for us to turn around," said Landiza, who has lived on the road for eight years.
Landiza said she needs to leave home a little earlier because of traffic building up near the bridge as people yield to others.
"It's irritating," she said. "It'll be OK, just as long as they finish it soon."
Danielson agreed, adding that he hopes tempers don't boil to the point that there is conflict.
"I hope they widen this bridge soon," he said. "They're gonna have people scrapping here sooner or later."