REPUBLICAN NATIONAL CONVENTION
Isle Republicans ready for energized convention
Hawaii's attendees praise McCain for his VP selection of Alaska Gov. Sarah Palin
STORY SUMMARY »
Unless Hurricane Gustav prompts a change in plans, the Republican National Convention begins tomorrow at the Xcel Energy Center in St. Paul, Minn.
President Bush is the main speaker tomorrow.
Hawaii Gov. Linda Lingle is set to speak on Tuesday on behalf of GOP candidate John McCain.
Lingle says her speech will talk about McCain's military family history, which is tied to Hawaii. McCain's father was commander in chief of the Hawaii-based Pacific Command and his grandfather commanded an aircraft carrier strike force in the Pacific during World War II.
---
FULL STORY »
ST. PAUL, Minn. » Fresh off the Democrats' historic convention, the 40,000 delegates attending the Republican National Convention get their chance in the spotlight this week to try to shift the nation's political focus back onto their candidate.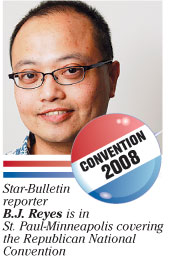 Although U.S. Sen. John McCain wrapped up the party's presidential nomination months ago, delegates still expect a spirited rally at the Xcel Energy Center in St. Paul, Minn.
Hawaii Republicans at the convention say McCain's selection of Alaska Gov. Sarah Palin as his running mate has infused new energy into the race.
"She is going to show all the young women of America that you can be smart, beautiful, a good mom, tough and a great leader," said Rep. Kymberly Pine (R, Ewa Beach-Iroquois Point). "I know once Hawaii gets to know her that they will respect her as much as I do."
Pine is among the 20 delegates, along with 17 alternates, traveling to the convention to represent Hawaii.
State Republican Party Chairman Willes Lee has been in St. Paul since last week, making preparations for the isle delegations.
"The preparations are on budget, on time and far exceeding any expectations from what we could've hoped," Lee said Friday.
Democrats wrapped up their convention Thursday, completing the nomination of Hawaii-born Sen. Barack Obama as the first black candidate to head a major party presidential ticket.
McCain's selection of Palin guarantees a historic first in the presidential election, regardless of who wins.
"We're going to have similar energy" as the Democrats' convention, said Adam Deguire, executive director of the Hawaii Republican Party, who is accompanying the delegation to the convention.
Unless it is postponed due to Hurricane Gustav, the convention kicks off tomorrow under the theme "Country First."
Speakers include President Bush, Vice President Dick Cheney and a host of party officials from all 50 states.
Hawaii Gov. Linda Lingle is among 10 current and former Republican governors, along with five current and former U.S. senators, selected to speak on McCain's behalf.
Her speech, on the second night of the convention, will be to a primetime audience on the mainland and comes the same night as keynote speaker Rudy Giuliani, former New York mayor and one-time presidential candidate.
"The general nature of it is why Senator McCain is a perfect person to elect president," Lingle said last week. "I'll be talking somewhat about his own history tied to our state through his father and his grandfather, who were admirals."
McCain's grandfather, Adm. John McCain Sr., was an aircraft carrier strike force commander in the Pacific during World War II. His father, Adm. John S. McCain Jr., was commander in chief of the Hawaii-based Pacific Command from July 1968 to September 1972.
Lingle, who is serving as one of McCain's surrogates for the campaign, expects to have a busy schedule in St. Paul.
In addition to addressing various state delegations and doing media interviews, Lingle said she also will be teamed with other campaign officials and McCain family members to visit the different caucuses that will be held.
"You won't find me at the Mall of America once things get under way at the convention," Lingle said. "They're going to keep me very busy."
Convention-planning last week included the adoption of the party's platform.
Republicans say the platform reaffirms a hard line on abortion and a more moderate stance toward climate change, reflecting the views of both the party's conservative base and McCain.
In its platform debate, the party stuck to its call for a constitutional amendment banning abortion despite McCain's opposition, and toughened already uncompromising language on the issue.
Conservatives succeeded in removing a line from a platform draft that merely urged a reduction in abortions - underscoring their point that abortion should be eliminated.
At the same time, the party weighed an energy policy acknowledging the human imprint on climate change.
The Associated Press contributed to this report.