| | |
| --- | --- |
| | What the Heck? |
---
Meeting the folks of the Hana Coast
Spent much of the week where the rain forest and the lava meet the ocean, along Maui's Hana Coast.
More than 2,200 cows and half as many people live along the coast from Ke'anae to Kipahulu - perhaps the most beautiful place on the planet and the last bit of undeveloped Hawaii coastline.
» "Thank God for the road," says Carl Lindquist, who moved to Hana from Oahu in 1984. If you didn't have to drive 50 twisty miles to get there, he notes, "Hana would have gone the way of the rest of Hawaii in the '60s and '70s. Because of the road, you have to be pretty serious about living here."
» Said 28-year-old Lyana Bednorz, who works at the Kahanu National Tropical Botanical Garden: "I was born here, when you could still be born in Hana. I had to have my four kids at Maui Memorial."
She lifts up her 18-month-old son Koali'i. "I almost had this one on the road. I didn't think I was going to make it."
» "You have to wave at everyone here when you're driving," said veteran AP correspondent Tad Bartimus, who now writes a nationally syndicated column, "Among Friends," from her seaside Hana home. (Why won't one of the Honolulu papers carry it?)
"If someone doesn't wave," says Bartimus, "that's a sign they are really mad at you."
The anger is allowed to last until the next funeral - by unwritten rule, everyone in town goes to every funeral. "There, you have to bury the hatchet," Bartimus says. "And eat. There's always plenty of food for everyone no matter how many people show up."
» Along the road near Haneo'o Fishpond, Ben Villiarimo and Ikaika Shamblin are building a rock wall - "fo' free" - to protect a shrine to the late kupuna Jackie Kahula, who was the ki'ai loko, keeper of the pond.
Villiarimo doesn't like the world outside. "Too much humans there," he says. "I was born in the bushes ... and I'm staying in the bushes."
It's a Small World
When you encounter 11 acres of perfectly manicured landscape, with multiple remnants of Hawaiian stonework, out in the middle of nowhere miles past Hana, you stop - and talk story with Sam Kupau.
The 68-year-old Kupau and his brother Francis get up at 5:30 and care for this land, which once was a temple complex. "This is Hawaii," he argues, "not America." The landscape is dotted with Hawaiian flags - and statues of the Virgin Mary, "'cause we're da kine," explains Sam.
Back home, I called Raiatea Helm about next Saturday's Hawaii Theatre concert (her only major Oahu appearance this year, an extension of her "Hawaiian Blossom" mainland tour).
We got talking about the Hana Coast. "My grandmother was from there," she said. "Did you see those statues of the blessed Virgin? My uncles live there."
Yes, Sam and Francis Kupau turn out to be Raiatea Helm's uncles. "I'm jealous," she said. "You've talked to them lately and I haven't."
Told her how gracious and self-possessed Sam was. He had no idea who we were, but had talked with us for 20 minutes, interrupted only by his dog Haku jumping all over us. "Welcome to the family," Raiatea said.
Lindbergh Lumber
The road from Hana used to snake all the way around to Ulupalakua. Now it's closed soon after it reaches the national park at Oheo Gulch - still prone to rock slides after the 2006 earthquake.
Living near the closure are John and Tweetie Lind, community leaders and taro farmers. John is also the cousin of investigative journalist/blogger Ian Lind. "Tell Ian to come over here and investigate this," says John, pointing to a mound under a blue tarp.
What's this? It's the lumber salvaged from Charles Lindbergh's historic home, Argonauta. The cottage was originally taken apart to move it onto the national park grounds at Oheo Gulch. A dispute among the interested parties brought the move to a standstill. Rangers were ordered to take the lumber to the dump.
They took it to John and Tweetie instead, perhaps in hopes the historic traces of the coast's most famous inhabitant and fierce advocate, might be resurrected.
"The story touched my heart, so we kept it," says Tweetie. "Hope we don't get in trouble for doing the right thing."
Horse Sense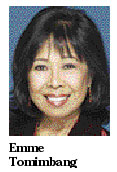 Back on Oahu, Alan Wong took celebrity chefs in town for his Easter Seals benefit out to Doc Lum's North Shore Cattle Co., where the chefs barbecued grass-fed North Shore burgers and ate smoked meat from a newly hunted boar.
Tagging along, with a full camera crew, was Emme Tomimbang. Borrowing a mount from a paniolo, Emme interviewed Lum while on horseback.
"She can really ride, she galloped off," marvels Lum. "I had to work to keep with her."
You can see Emme on horseback - and the rest of the show - this Thursday and Saturday, KHON-TV2.
Dissed by Hollywood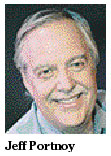 There's Jeff Portnoy - partner at Cades Schutte, former head of the Hawaii State Bar, sports commentator on 1500AM, president of the board of Manoa Valley Theatre, etc., etc.
Then there's Jeff Portnoy, an obese, drug-addled comedian best known for being able to fut on command. That Jeff Portnoy is a movie character, played by Jack Black, in "Tropic Thunder," filmed on Kauai last year.
"I haven't got a lot of aloha for the film," says Portnoy. "Since they were using my name, I tried to get on the set, just for a few minutes. Some totally humorless film publicist said absolutely no way."
"I'll tell you the distressing part," says Portnoy. It used to be when you Googled his name, he popped to the top of the list. Now, with the film taking off, you can't find Portnoy the lawyer until page three of the listings.