| | |
| --- | --- |
| | Newswatch |
---
Court clarifies term-limit law
HILO » The state Supreme Court ruled Friday that a lower court was wrong in 2004 when it let Hawaii County Councilman James Arakaki serve one more term, despite a new term limit provision in the county charter.
But the winning lawyer in the case, Fred Paul Benco of Honolulu, said he thinks the real message from the Supreme Court is a warning not to be sloppy when writing laws.
Controversy about whether Arakaki had a right to run one more time arose from the fact that the term limit provision did not have a starting date.
That allowed a dispute over whether Arakaki should be out in 2004 or 2006. Circuit Court Judge Glen Hara ruled that the term limit provision started in December 1998, which in effect meant Arakaki's last term would be in 2006.
That view was challenged by council candidate Ollie Fulks, who lost to Arakaki in 2004 by a vote of 3,104 to 796. By the time the Supreme Court reviewed the case, Arakaki's 2004-2006 term already ended and he was out of office.
But the high court said the appeal was still relevant because a similar case could arise. The court said the "novel issue" was how to figure out when the term limit provision went into effect.
It decided the effective date was in November 1996, when the county clerk certified the term limit charter provision.
The clock began ticking for Arakaki a few days later in December 1996 when he started a new term under the newly minted limits, the court said.
School survey participation urged
The state Department of Education is reminding parents of public school students to fill out a federal census survey that their children are scheduled to bring home Tuesday.
The annual survey determines the number of military and non-military students in the public system for whom the state receives impact aid funds. The returned cards qualify schools for more than $40 million in federal funds.
In the 2006-07 school year, the state counted more than 29,000 federally-connected students and got nearly $47 million in federal impact aid, or an average of $1,587 per student. It accounted for about 13.6 percent of the state's $11,659 average per pupil expenditure that year.
Guardrail work to close offramp
The Likelike Highway offramp in the Koko-Head bound direction of the H-1 Freeway will be closed Tuesday from 9 p.m. to 4 a.m. for guardrail replacement, a Department of Transportation news release said.
To access Likelike Highway, motorists are advised to exit H-1 at Dillingham Boulevard/Middle Street (exit 18B), then continue on Middle Street, which turns into School Street, until it intersects with Likelike Highway.
Bank donates backpacks to kids
Twenty happy children showed off new backpacks filled with school supplies presented to them at a luncheon last month at Child and Family Service's main office at Ewa Beach. Eighty more backpacks equipped for school were distributed to needy children on Oahu and the neighbor islands. They're a gift from ING DIRECT, Delaware-based online banking institution which is opening the ING DIRECT Cafe on Kalakaua Ave. Panya Bakery, Hawaii Coffee Company and Hokulani Bakery donated lunch for the kids, families and staff at Child and Family Service.
| | |
| --- | --- |
| | Police, Fire, Courts |
---
Crash kills California woman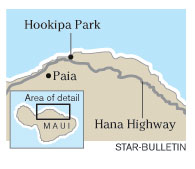 A 54-year-old California woman died after crashing a 2007 Harley Davidson motorcycle into a pickup truck Friday afternoon, police said.
Melissa Zander of Glendale, Calif., was driving toward Paia on the Hana Highway near Hookipa Beach Park when the motorcycle crossed the center line and collided with a Haiku-bound Nissan pickup truck at 4:47 p.m., police said.
Zander died at the scene. Police said she was not wearing a helmet. The driver of the pickup truck, a 52-year-old Haiku man, was not injured.
WAIKIKI
2 men arrested in attack on tourist
Police arrested two men who allegedly beat an Ohio visitor with a rock before robbing him of $70 in Waikiki.
At 11:30 p.m. Friday, the 20-year-old man from Magnolia, Ohio, was walking alone in Waikiki when the two suspects, ages 24 and 20, approached him, police said.
The 24-year-old man hit the victim's face with a fist-sized rock, and one of the suspects took the money from the victim's pants pocket, police said.
Police located the men near Kaumoo Street and arrested both on suspicion of first- degree robbery.
Police investigate death in Ala Wai
Police are investigating the death of a 25-year-old McCully man who fell into the Ala Wai canal early yesterday morning.
At about 2:45 a.m., the man was walking home alone on Ala Wai Boulevard near Lewers Street, police said.
Three witnesses also walking along the Ala Wai heard a loud splash about 100 yards ahead, police said. They kept walking and came upon the man lying face down in the water. They pulled him out and called for help. Rescuers took the man to Straub Clinic & Hospital where he died. The man had severe contusions to his forehead, police said.
No one else was seen in the area, and police said the death appears to be accidental.
CENTRAL OAHU
Pedestrian remains critically injured
A 21-year-old Wahiawa man remains in critical condition after he was hit by a speeding motorcycle Friday evening in the Waipio industrial area, police said.
A black 1996 Suzuki motorcycle driven by a 24-year-old Kapolei man was traveling west on Ukee Street at about 6:21 p.m.
The motorcycle braked hard and skidded on the road before hitting the pedestrian crossing Ukee Street near Kau Street.
Police said speed was a factor and the motorcyclist was not wearing a helmet.
Both men were taken to the Queen's Medical Center in critical condition, but the motorcyclist's condition improved to serious.