Ex-coach gets prison for girl's sex assault
The mother of a 13-year-old girl who was sexually assaulted by her former high school volleyball coach gave a tearful testimony yesterday in Circuit Court, detailing the emotional destruction on the girl and her family.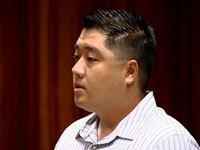 Former Maryknoll volleyball coach, Darin Yoshinaka was sentenced to 18 months in jail plus five years probation after he admitted to having two sexual encounters with a student.
The mother, whose name is being withheld to protect the victim's identity, said her daughter has gone through a range of emotions, including fear, anger, depression, low self-esteem and suicidal tendencies.
"How can you ask a child to cope with all these feelings?" she asked Circuit Judge Richard Pollack during a sentencing hearing for former Maryknoll assistant volleyball coach Darin Yoshinaka. "We wish we could take it away and bear it on our own shoulders."
Pollack sentenced Yoshinaka to 18 months in prison yesterday under a plea agreement.
Yoshinaka pleaded guilty to two counts of second-degree sexual assault and four counts of third-degree sexual assault. Second-degree sexual assault is punishable by up to 10 years in prison, and third-degree sexual assault is punishable by up to five years.
"I want to emphasize that what you did, you did it in a position of trust," Pollack told Yoshinaka. "You actually deceived her parents a second time. That, in the court's view, is unacceptable."
The first instance occurred in November when the parents were not home, and Yoshinaka invited himself over to their home and sexually assaulted the child. The girl was a player on the Maryknoll varsity volleyball team at the time, and Yoshinaka previously had communicated through texting, instant messaging and phone calls.
The second sexual assault occurred in January when the parents, not knowing of the first incident, dropped off the girl at the Manoa Library so she could be tutored under Yoshinaka. Instead, Yoshinaka took her to the Manoa Elementary School campus, where he kissed her and put his hand on her buttocks.
The girl reported the two incidents to her parents. Yoshinaka was arrested in January. His contract as assistant coach ended in October.
Yoshinaka apologized to the family and said that he would accept any sentence that the court sees fit.
"They put their trust in me, and I let them down," he said.
The mother said one of the first things her daughter told her when she reported the assaults was, "Mom, I don't want this to happen to anyone else."
"I'm so very proud of her," the mother told Pollack. "Don't let her courage go in vain. Show her that what she did was the right thing to do."
Pollack agreed, praised the victim's bravery in coming forward, and added 18 months' imprisonment on top of five years' probation.
Deputy Prosecutor Scott Bell said nothing could heal the victim's pain.
"The criminal justice system in certain aspects can be inadequate in terms of making someone whole," Bell said. "Regardless of the sentence, it cannot restore the innocence of a child victim."
Yoshinaka's attorney, David Hayakawa, argued for six to nine months of imprisonment but later called the sentencing "tough but fair."
"One day, (Yoshinaka) hopes to start earning back the respect of his family and others," Hayakawa said.