Oahu's wet side facing a drought
The city asks folks on the Windward side to cut their water use because of scant rain
The Honolulu Board of Water supply is asking all Windward Oahu customers to voluntarily restrict their water use by 10 percent to save water for a predicted dry remainder of the year.
WAYS TO SAVE WATER
A 10 percent reduction in water consumption for a family of four equals about 50 gallons a day, or 350 gallons a week. Here are some tips for reducing use, and how much water they could save a family of four in a week.

» Cut two minutes off showers: Save 154 gallons (38.5 gallons a person)

» Eliminate one wash load of clothes: Save 39 gallons

» Turn the water off while brushing your teeth: Save 308 gallons (77 gallons a person per week)

» Fill the sink basin to wash the dishes rather than running the water: 175 gallons saved
Some residents were surprised by the call for conservation because it has been raining recently, but most said it was a good idea if officials expect water levels to be low.
Barbara Brown of Kaaawa supported conservation, despite her surprise at a water shortage.
"Everything's nice and green," she said. "If you judge by the greenery around, how can you say there's a shortage?"
The Board of Water Supply said the current supply level is not critical, but might be short if the drought continues into the rainy season, which usually starts in October.
"We've experienced a period of very low rainfall over the spring and summer," said Cliff Lum, manager and chief engineer of the Board of Water Supply. "This is a necessary and protective step ... to avoid having to go through more stringent measures in the future."
The board is focusing on a special schedule for irrigation, which makes up about 50 percent of the water use in an average household.
Water users are asked to limit irrigation to three times a week -- Sunday, Tuesday and Thursday -- which will give four days a week for the water sources to recover.
The board has also asked city, state and federal agencies to conserve water and follow the irrigation schedule.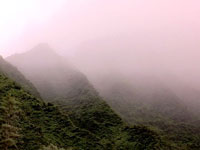 The Board Of Water Supply is asking Windward residents to conserve water due to eight months of drought conditions.
Low rainfall began in mid-February, said Kevin Kodama, a hydrologist with the National Weather Service in Honolulu. Many Windward rain gauges are showing less than 50 percent of normal rainfall.
The weather service predicts that dry weather will continue through the end of December, he said.
The voluntary water reduction, which begins tomorrow and could last for months, is for the area from Hauula to Makapuu.
Dry conditions extend across the state at varying degrees, said state Drought and Water Conservation Coordinator Neal Fujii. He said the federal government designated Hawaii a primary natural disaster area because of drought since January.
Despite low rainfall around the state, the city is focusing on the Windward side, where a large portion of water comes from shallow-water wells called dikes.
In a dike system, water is stored in porous lava rock, trapped by vertical fingers of solid lava rock. The water is close to the surface, and dikes are more susceptible to drought conditions.
About 50 percent of the Windward water comes from dike sources that have smaller capacities than deeper, larger basal aquifers that provide most of the water on the Leeward side.
Dolly Gualdarama of Ahuimanu said she already has been trying to lower her water bill by conserving water since the beginning of this year. She wipes down her car instead of washing it, and she stopped watering her yard.
"These little things, they mean a lot," she said.