ELECTION 2008
Palin pick for VP has pros, cons
Isle Republicans laud Alaska governor as McCain's running mate
STORY SUMMARY
|
READ THE FULL STORY
WASHINGTON » John McCain's risky choice of Alaska Gov. Sarah Palin, 44, gives him a running mate who doubles down on his maverick image, might appeal to "hockey moms" and other women, and counters Barack Obama's aura of new-generation change.
On the negative side, McCain has argued that Obama, a 40-something candidate with four years as a senator and no major foreign policy experience, was not ready to be president.
With his selection of the relatively inexperienced Palin, he risked undercutting his best attack on the Democrat.
NEWS SERVICES
FULL STORY »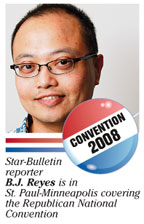 ST. PAUL, Minn. » Hawaii Republicans had high praise for Sen. John McCain's selection of Alaska Gov. Sarah Palin as his running mate in the 2008 presidential race.
"It was a great selection. She's a great American," said Hawaii Republican Party Chairman Willes Lee. "She brings executive experience -- considerably more than (Democratic counterpart) Sen. (Joe) Biden."
Lee has been in the Twin Cities all week making preparations for the 37-member Hawaii delegation headed to the Xcel Energy Center for the Republican National Convention, which begins Monday.
Some isle Republicans were en route to St. Paul or still in Hawaii when they heard the news that McCain had selected the first-term governor as his running mate.
Palin, 44, has a reputation as a maverick and reform politician similar to McCain, who made the announcement on his 72nd birthday. She and her husband live in Wasilla, Alaska, with their five children, the youngest of whom was born in April with Down syndrome.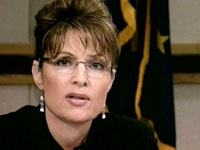 Local GOP's surprised when John McCain announced his VP running mate, Alaska's Governor Sarah Palin.
Gov. Linda Lingle was with Palin in Dallas at a governors meeting in April when Palin went into labor. Palin went back to Alaska to give birth.
"I have worked with Gov. Palin over the past two years and have been impressed by her vast knowledge and leadership on a plethora of issues, especially energy independence, her proactive reform platform on a local and national basis and her courage to fight corruption in her state," Lingle said in a news release.
State Rep. Gene Ward had said he thought Lingle would have made a good choice as McCain's running mate, but said yesterday he "couldn't be more pleased" with the addition of Palin.
"She's added an exceptional dimension," said Ward, co-chairman of McCain's Hawaii campaign. "She's going to be a role model for the women of America."
At least one member of Hawaii's all-Democratic congressional delegation criticized Palin as similar to McCain for supporting most of the policies advocated by President Bush.
"Palin brings the same out-of-touch conservative thinking of the past eight years," U.S. Rep. Mazie Hirono said in a news release. "There is nothing maverick about either one of them and America simply can't afford four more years of the same."