---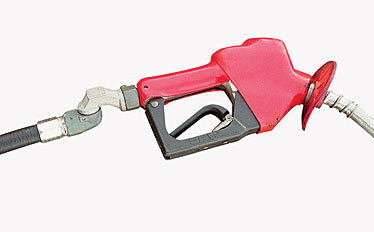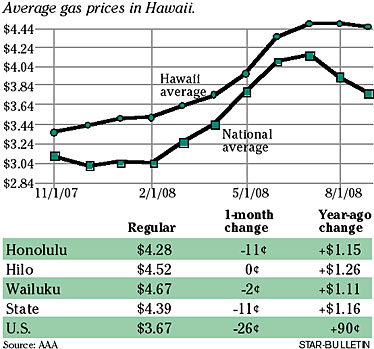 HAWAII
Hawaii gas prices decline
Gasoline prices fell again this past week, with the statewide average declining 3 cents to $4.39 a gallon for regular unleaded, according to
AAA
.
Yesterday's average price in Honolulu was $4.28 a gallon for unleaded, down 4 cents from last week's price, off 11 cents from last month's price and $1.15 higher than last year. In Hilo, the average price was $4.52, up 3 cents from last week, unchanged from a month ago and up $1.26 from last year. The average price on Wailuku was $4.67, down 1 cent from last week, off 2 cents from last month and up $1.11 from a year ago.
The nationwide average was $3.67, down 2 cents from last week, off 26 cents from a month ago and up 90 cents from a year ago.
WeePlay & Learn reopens
A popular children's play center that closed last fall following a round of unsuccessful lease negotiations is reopening in a new location, and it's bigger than ever.
Brian and Mary Kalogirou Melzack, owners of WeePlay & Learn, will reopen Labor Day in Ward Warehouse. The new center, which will occupy a 10,000-square-foot, second-floor space, will house a children's play center as well as a keiki snack bar and retail store.
The center will concentrate on its bread-and-butter children's play classes. However, it also will offer music, dance, art and tumbling classes and occasional barber services for children, said Mary Kalogirou Melzack, the mother of four who is the brainchild behind this new retail concept.
The center also will cater to parents with its offering of Pilates, yoga and aerobic classes for mothers and keiki camps, which offer limited drop off day care services, she said.
The latest enterprise is just one in a series of ambitious undertakings for the couple. Brian, who was the former chief executive of the Toronto-based Classic Bookshops, owns and operates the Bestsellers Books & Music bookstores in Hawaii. Mary was developing large-scale projects like Hazelton Lanes in downtown Toronto before she decided to concentrate on wee things.
Medicaid lawsuit dismissed
Federal Judge J. Michael Seabright dismissed yesterday a lawsuit filed by the Hawaii Coalition for Health seeking to stop the transfer of the state's $1.5 billion Medicaid contract to two mainland health plans.
The contract, which goes into effect on Nov. 1, covers 37,000 aged, blind and disabled Hawaii recipients. The suit claims that change of the current fee-for-service program to managed care under the two new health plans would result in patients having to switch doctors and potentially lose services.
This is the second time that a federal court has dismissed a complaint challenging contracts the state Department of Human Services awarded to the two health plans, Tampa, Fla.-based WellCare Health Plans Inc. and an affiliate of UnitedHealth Group Inc. of Minneapolis, both publicly traded companies that do not have significant operations in the islands.
Seabright has not yet issued a written order explaining his reasons for the dismissal. The coalition said it will consider the basis of an appeal at that time.
NATION
Alabama county near bankruptcy
BIRMINGHAM, Ala. » Alabama's largest county offered a plan yesterday to restructure its $3.2 billion sewer debt and, at least for now, put off filing the largest bankruptcy in U.S. history.
Gov. Bob Riley said an attorney for Jefferson County proposed restructuring the bond debt at a lower, fixed rate over a longer term, and Wall Street creditors allowed the county to delay any further interest payments at no cost until Sept. 30.
Creditors agreed to respond next week to the county's proposal for restructuring the debt.
---
BUSINESS PULSE