NATIONAL FOOTBALL LEAGUE
SACKED!: JAGUARS HIT BRENNAN HARD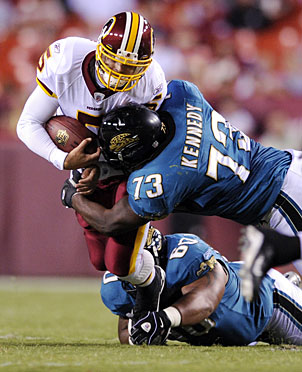 Carr shines for Giants in Super Bowl rematch
EAST RUTHERFORD, N.J. » No Tom Brady. No Eli Manning.
The New England Patriots and New York Giants took no chances with their quarterbacks in a preseason finale last night that matched February's Super Bowl opponents. This time there was nothing at stake, except a few jobs before the final roster cutdown tomorrow.
David Carr took advantage of Manning's rare night off and threw touchdown passes to Darcy Johnson and Sinorice Moss to lead the Giants (2-2) to a 19-14 victory over the winless Patriots at Giants Stadium.
Falcons 10, Ravens 9
BALTIMORE » The top two quarterbacks selected in this year's draft started their team's final preseason game - for vastly different reasons.
Matt Ryan played two series last night to get a feel for being Atlanta's starting quarterback. Joe Flacco started out of necessity for Baltimore because of illness and injury to the other quarterbacks.
Ryan, the third overall pick, went 2-for-7 for 17 yards before taking a seat. The former Boston College star finished the preseason 34-for-59 for 294 yards, two touchdowns and one interception.
Jets 27, Eagles 20
PHILADELPHIA » Brett Favre slung a few passes during pregame drills and called it a night. He put a green cap on and stood on the sideline, arms folded, jersey slightly untucked and safe from harm.
With Favre sitting out, fourth-string quarterback Erik Ainge led the New York Jets over the Philadelphia Eagles in the preseason finale.
Bengals 27, Colts 7
INDIANAPOLIS » The Bengals scored touchdowns on their first two series and never gave the Colts a chance to rally, running away with a victory in the preseason finale.
Backup quarterback Ryan Fitzpatrick was 5-for-8 for 35 yards with one TD pass to lead the Bengals (2-2), and Chris Perry, trying to supplant Rudi Johnson at running back, ran nine times for 20 yards and one TD.
Jaguars 24, Redskins 3
LANDOVER, Md. » Gregg Williams showed up the team that let him go, his Jacksonville Jaguars defense stopping cold a Washington Redskins first-string attack that again looked far from ready for the regular season.
The Jaguars held the Redskins' starters to 14 total yards in three first-quarter drives, and David Garrard, Cleo Lemon and Todd Bouman all threw a touchdown pass in Jacksonville's victory.
Lions 14, Bills 6
ORCHARD PARK, N.Y. » Turned out the Detroit Lions' second- and third-stringers were better than the Buffalo Bills, winning a game in which both teams were only interested in resting their starters for the regular season.
The Lions closed the preseason with an NFL-best 4-0 record, the first time they've gone unbeaten since going 4-0-1 in 1993.
Steelers 19, Panthers 16
PITTSBURGH » Jeff Reed kicked his fourth field goal of the game - his eighth in less than a week - a 43-yarder on the last play, and the Pittsburgh Steelers beat the Carolina Panthers.
Dennis Dixon went 4-for-4 for 32 yards for the Steelers (3-1) and running 11 yards for a first down on the 47-yard drive that ended with Reed's decisive field goal.
Bears 16, Browns 10
CLEVELAND » Brady Quinn looked better prepared for the season opener in case Derek Anderson isn't ready, leading Cleveland on two scoring drives as the Browns closed their exhibition schedule with a loss to the Chicago Bears.
Quinn finished 7-of-9 for 65 yards in his two series.
Titans 23, Packers 21
GREEN BAY, Wis. » Packers quarterback Aaron Rodgers took the rest of the night off after throwing a touchdown pass on his first snap, but the Tennessee Titans held on to beat Green Bay.
Rodgers threw a 68-yard touchdown pass to Greg Jennings just after the opening kickoff for the Packers (1-3).
Cowboys 16, Vikings 10
IRVING, Texas » Terrell Owens and freshly reinstated Adam "Pacman" Jones didn't even bother to put on their football pants.
T.O. wore warmup pants and Jones was in shorts while watching from the sideline with the rest of the Dallas starters Thursday night as the Cowboys (2-2) beat Minnesota (1-3).
Rookie running back Tashard Choice, a fourth-round draft pick, solidified his chance of making the Cowboys' roster with an 11-yard touchdown run and Nick Folk kicked two 52-yard field goals and a 23-yarder.
Dolphins 14, Saints 10
NEW ORLEANS » Ronnie Brown returned from a thumb injury in good enough form to make a case for sharing carries with Ricky Williams this season.
Brown rushed 12 times for 47 yards and powered his way into the end zone on a 1-yard run to help the Miami Dolphins (3-1) win their third-straight preseason contest.
Buccaneers 16, Texans 6
HOUSTON » Dexter Jackson returned a punt 83 yards for a touchdown in the second quarter and the Buccaneers' backups beat Houston's.
Jackson is a dynamic former track star whom the Buccaneers (3-1) hope to use in a variety of ways. Along with his touchdown, he added 13 yards on a reverse in the first quarter.
Chiefs 21, Rams 17
KANSAS CITY, Mo. » Brodie Croyle directed two quick touchdown drives against St. Louis' reserves and Kansas City's offense grabbed some much-needed momentum in a victory over the Rams.
The Chiefs (2-2) were coming off a demoralizing 24-0 shutout at the hands of a Miami team that was 1-15 last season.