Marine reserve yields old shipwrecks
When the British whaling ship Gledstanes sank off Kure Atoll in 1837, those onboard escaped unharmed, but the ship was lost to the depths - until scientists discovered it last month.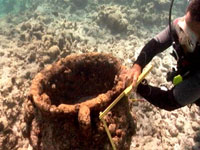 A team of maritime archaeologists returned Thurs from the Northwest Hawaiian Islands, where they made several exciting discoveries.
National Oceanic and Atmospheric Administration archaeologists returned to Oahu yesterday after a monthlong expedition to the Papahanaumokuakea Marine National Monument. They made two new archaeological discoveries in the area, including the Gledstanes shipwreck.
"It's an incredibly rich place," said Kelly Gleason, a maritime archaeologist and chief scientist for the expedition. "The natural resources are amazing, but then there's also a very rich human story, and the seafaring stories of surviving at sea are really incredible."
Rusted anchors and coral-covered whaler trypots, used to extract oil from blubber, serve as a window to the past.
"We saw it firsthand, and we started to recognize these early-19th-century characteristics: the shape of the anchors, the cannon on the side, the type of ballast," recalled NOAA archaeologist and historian Hans Van Tilburg. "It's simply a rare glimpse into what was a major global industry in the early 19th century."
Scattered artifacts on the sea floor led scientists to another sunken ship at French Frigate Shoals. Maritime archaeologists were unable to identify the wreck but believe it to be one of three whalers: the South Seasman, lost in 1859, the Daniel Wood, lost in 1867, or the Two Brothers, lost in 1823.
Measurements and images taken of different artifacts will be examined further to determine which wreck they came from.
"To be the first archaeologists and divers to see some of these sites, these untouched wreck sites, is really special," said Van Tilburg. "So that is a treat because that doesn't happen very often for anyone."
The journey took the crew to Midway Atoll, Kure, Pearl and Hermes Reef and French Frigate Shoals.
Hawaii Institute of Marine Biology researchers were also onboard the Hi'ialakai NOAA vessel, along with two cultural practitioners.
Fourteen-foot-long sharks and Hawaiian groupers were among the marine life tagged and released by scientists.
Transmitters that look like AA batteries were surgically implanted to track the animals. Each transmitter produces a unique ultrasonic signal, allowing scientists to monitor their movement.
"The work that we did on this cruise, we will get the interesting data when we come up next year," said Carl Meyer, assistant researcher at HIMB. "It's one of the cornerstones of management, understanding where animals go."
Said Gleason, "It was a really exciting expedition. We had cultural, historic and biological researchers working together. So it was truly a multidisciplinary cruise. In general, this project was just such a success because we were able to do so many different things. The discoveries just emphasize what an amazing place this is."
Artifacts recovered on this trip from previously discovered archeological sites, the Parker and USS Saginaw, will be displayed at the Mokupapapa Discovery Center on the Big Island.