DEMOCRATIC NATIONAL CONVENTION
Candidate's show of 'fire' warms Hawaii delegates
STORY SUMMARY »
DENVER » Surrounded by an enormous, adoring crowd, Barack Obama promised a clean break from the "broken politics in Washington and the failed policies of George W. Bush" last night as he embarked on the final lap of his bid to become the nation's first black president.
"America, we are better than these last eight years," the Illinois senator told an estimated 84,000 people packed into Invesco Field.
In accepting the Democratic Party presidential nomination, he vowed to cut taxes for nearly all working-class families, end the war in Iraq and break America's dependence on Mideast oil within a decade. By contrast, he said, "John McCain has voted with President Bush 90 percent of the time," a scathing indictment of his Republican rival.
Polls indicate a close race between the Hawaii-born Obama and McCain, the Arizona senator who stands between him and a place in history.
---
FULL STORY »
DENVER » A tougher-talking Sen. Barack Obama opened up the general election campaign last night with more than 80,000 supporters at Invesco Field.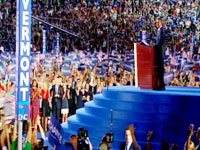 With thousands in attendance, Barack Obama Officially accepted his party's nomination.
Delegates and those who braved long lines to get into the stadium heard Obama tell them, "This election has never been about me; it is about you."
That "clearly knocked it out of the stadium" for Hawaii delegate and Oahu attorney Jo-Ann Adams.
"He is not afraid to say this isn't about him," Adams said.
While booming fireworks shot overhead, delegates and supporters filed out of the packed stadium, saying that Obama showed a tougher side.
"He brought it to the Republicans," said Derrick Thomas, a national labor leader from New Jersey. "This is the first time I heard him with more fire and passion. He needed to be more forceful, and tonight he was."
Adams agreed, saying Obama's criticism of the GOP was strong "but didn't get snippy."
One of the big lines of the night was when Obama directly challenged Republican Sen. John McCain, who will be nominated next week at the GOP convention in Minneapolis.
"If John McCain wants to have a debate about who has the temperament and judgment to serve as the next commander in chief, that's a debate I'm ready to have," Obama said.
Former Hawaii Gov. John Waihee, a strong supporter of Sen. Hillary Clinton, became a convert.
"I really felt for the first time that Barack Obama has what it took to be president," Waihee said. "I always knew he was smart and talented, but tonight he showed that he is the kind of leader that comes along once in a generation. He had the fire, and he made a believer out of me."
Another Hawaii delegate, Chuck Freedman, said Obama's speech was notable because he was "teeing up the issues for the debates."
Freedman said he liked that Obama was "tougher on the policy differences."
Obama showed last night that he could take the fight to the Republicans even in areas of national defense, where the GOP has criticized the Democrats.
"We need a president who can face the threats of the future, not keep grasping at the ideas of the past," Obama said.
Freedman said McCain "represents the policies of the past."
Hawaii Democratic Party Chairman Brian Schatz said Obama's speech showed that the U.S. senator from Illinois still remembers his Hawaii roots.
"Hawaii values were represented on a world stage," Schatz said.
"He stuck it to John McCain on the issues, but he never made it personal. It is a result of how he was raised in the place he was raised," Schatz said.
The campaign switched Obama's acceptance speech from the cramped Pepsi Center to the professional football stadium, where the crowd was estimated to be as high as 84,000.
Hawaii delegate Adams said the crowd was "the story behind the story" because it showed that Obama could draw tens of thousands of supporters, not just political partisans like the Democratic delegates.
"They were turning away thousands of people, and the volunteers said they also turned away thousands of people who wanted to volunteer," Adams said.
The event itself was a cross between a political rally and a concert. Musicians such as John Legend, Sheryl Crow and Stevie Wonder were interspersed with speeches from former Vice President Al Gore and the vice presidential nominee, Sen. Joe Biden.