| | |
| --- | --- |
| | Island Mele |
---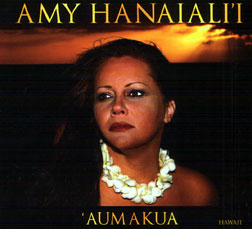 "'Aumakua"
Amy Hanaiali'i Gilliom
(Ua)
Listening to Amy Hanaiali'i Gilliom singing a Creedence Clearwater Revival hit, "Have You Ever Seen The Rain," as beautifully orchestrated pop, it's impossible not to think of the sophisticated sound of her 1995 debut album, "Native Child." Hawaii wasn't ready for Gilliom in 1995, and it wasn't until she switched to singing traditional Hawaiian falsetto that local audiences embraced her. Gilliom's second album, "Hawaiian Tradition," won her three Hoku Awards in 1998, and the rest -- pardon the cliche -- is history.
With "'Aumakua," Gilliom, arranger/conductor Matt Catingub, and Gilliom's production team come full circle in displaying her unquestioned talent as a mainstream American pop vocalist while also reaffirming her commitment to honoring and perpetuating her Hawaiian heritage. "Oh, What A Beautiful Morning," one of several songs she performs as a duet with guitarist Jeff Peterson, is a reminder of her formal training in musical theater. "When You Wish Upon A Star" and "In The Life" cover other facets of her pop repertoire. "Blue Moon" gets a hapa-haole feel as Peterson plays the melody on ukulele.
Gilliom shares essential information about each song with her liner notes. She explains, for example, why she recorded Kui Lee's classic "I'll Remember You" in Hawaiian (translated by Myrtle K. Hilo as "He Mana 'O Au"), and the reasons she recorded "I Remember You" (a different song entirely) as romantic big-band dance music.
Two new Hawaiian songs co-written with various people stand out as well. "Napua" honors her beloved grandmother, and "Uale 'a Ka Mahina" commemorates the birth of her daughter. Here, too, the liner notes add important details that reveal how the songs connect with one another and to the title of the album.
Catingub does a superb job in crafting arrangements that frame Gilliom's voice in a variety of contexts, and she sings beautifully throughout. With "'Aumakua," Hawaii should now embrace her as a cosmopolitan vocalist.
---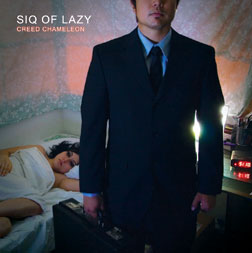 "SIQ Of Lazy"
Creed Chameleon
(SIQ)
There aren't many players on the Hawaii hip-hop scene with the material, heart and bank to put out hard-copy full-length albums these days. Creed Chameleon, of "Love Potion Cyanide" fame, is one of the rare exceptions, and Hawaii is the better for it.
Creed (born Kris Rojas) again addresses an assortment of political, social and personal issues in articulate ear-catching style. References to Frank Fasi and Diane Suzuki show that he and his team aren't newbies; the impact of his insights is heightened by the power of tracks he flows over. One track attacks sterility in contemporary radio. Another honors tattoo artists. Others cover male/female relationships.
Creed and company add bits of reality-type entertainment to the tracks, with voice-mail messages purportedly from friends, rivals, hoochies, and producer Ion Myke's mother. On a cut with a title that can't be printed here, he shares the spotlight with Myke, Mox, Krystiles, Everybody Knows and TKO to show that top talents can work together toward the shared goal of elevating local hip hop. -- John Berger
John Berger
, who has covered the local entertainment scene since 1972, writes reviews of recordings produced by Hawaii artists. See the Star-Bulletin's Today section on Fridays for the latest reviews. Reach John Berger at
jberger@starbulletin.com
.