C&K show cruises down memory lane
THERE WERE LOTS of baby boomers reliving their glory years during
Cecilio and Kapono's
"Back in the Day" concert last weekend.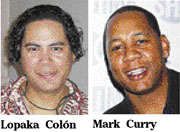 Memories of attending C&K gigs in the '70s dominated conversations in the backstage VIP area at the Waikiki Shell. On stage, KUMU morning duo Frank B. Shaner and Mandy Suganuma kept things moving at a pretty rapid pace. Uncle Willie K, Sista Robi Kahakalau and Kalapana all performed, along with a special one-time reunion gig by local band Summer (visit my blog for pictures from the show).
Then it was time for C&K, who started their set with "Sailing" from the lawn and finished with a kanikapila-style jam session with help from the night's earlier performers and guest appearances by Amy Hanaiali'i Gilliom and Na Leo.
One of the youngest musicians that night had to be Lopaka Colon, who backed up C&K on percussion. While last weekend was all about Hawaiian music, he shared his plans for an upcoming album with a brand new sound.
"I'm totally into drum-n-bass, jungle, trance and ambient (music)," he said. "So I figured I could do a mash-up with exotica."
The new project, dubbed "Intoxika," will feature Colon alongside a full band. He hopes to have a five-song LP recorded by October.
"The ultimate goal is to do an album and hit the tiki and exotica convention scenes," he said. "We also got an offer from Bank of Hawaii to do a couple of songs for them."
Can't wait for the new material? Check out Colon on Sundays at Duke's Waikiki with Kapono, or watch for upcoming gigs by Colon and local guitar virtuoso Makana ...
STAND-UP COMEDY is getting quite the push this summer. After kicking off a new partnership with Cirque Hawaii and hosting Mike Epps last weekend, Laugh Factory Hawaii welcomes Mark Curry to the islands. The star of "Hanging with Mr. Cooper" will perform at 8:30 p.m. Wednesday through Sept. 7 ... On Stage Hawaii announced last week that Tommy Davidson will headline at Pipeline Cafe on Sept. 10. Performances are scheduled for 6 p.m. and 8:30 p.m. Call 926-3000 ... Local boy Augie Tulba is headed for the Leeward side after a successful show at the Hawaii Theatre earlier this month. "Augie T's Wild Wild West Comedy Show" takes over the Makaha Resort at 8 p.m. Sunday, with opening sets by Gerard Elmore, Jose Figueras and Timmy Mattos. Call 391-5673 ...
CONCERT NEWS: Pro surfer Kekoa Cazimero celebrates his birthday Sunday with rapper David Banner at the O Lounge. Doors open at 9 p.m. for the 18-and-over party, hosted by Hawaiian Hurricane Productions and Payday Entertainment ... Canadian singer-songwriter Justin Nozuka plays Pipeline Cafe tonight. The show is a preview of Nozuka's upcoming mainland tour. His debut album, "Holly," is in stores now ... Underworld Events and 808shows.com have signed Guttermouth for two shows in October. More details, including ticket prices and venue location, in a few weeks ...
WEEKEND PICKS: Yet another local band is heading for the mainland. Say goodbye to A Hollow Union on Friday at Anna Bannana's during an 18-and-over show that starts at 9 p.m. ... V3 Promotions and Scene50 present a "Back to School Kickoff Party" Saturday at Brew Moon. Doors open at 10 p.m., with guest appearances by models Tia Tanaka and Nikki Sotelo. Miss Aloha Tower 2007 Jewelyn Tam-Sing will also be there to celebrate her birthday ... After skipping out on "SKYLiNE" and "Oceanfront" earlier this month, Flash Hansen and Matty Hazelgrove return with a special night at two separate venues. "Heaven and Hell" will feature mash-up DJ Bobby French and different themes at RumFire and the Hanohano Room. E-mail VIP@flashandmattyboy.com for bottle service ...
NEXT WEEK: One of Honolulu's longest-running weeklies is pau. "Bombasstic Tuesdays" has been replaced at Pipeline by "After the Point After," with former Point After resident DJ Mikie D spinning '70s and '80s hits from 8 p.m. ... Following a brief hiatus, Artist Groove Network returns to Venus Nightclub. "Homeroom" kicks off Sept. 3 with DJs Betty and Technique ... The 808 Scene Zine has partnered with Lotus Soundbar to host "Rivals" in September. This four-week battle of the bands will award $1000 cash to the winners; visit www.myspace.com/lotusrivals for more ...
CORRECTION
Friday, August 29, 2008
» Canadian singer-songwriter Justin Nozuka will headline the Star 101.9 Summer Wrap-Up Party tonight at Pipeline Cafe with opening act Go Jimmy Go. Tickets are $25. An incorrect date appears on Page 31 of this week's HiLife section.