Soetoro-Ng meets with exhilarated isle delegates
DENVER » Maya Soetoro-Ng, the half sister of Democratic presidential nominee Sen. Barack Obama, met with Hawaii delegates this morning, giving a warm and affectionate description of her older half brother.
She spoke to the Hawaii, Delaware and Arkansas delegations that are staying at the same hotel in Littleton, Colo., about 30 miles from the Denver convention site.
Soetoro-Ng says she hasn't been able to talk directly to Obama here in Denver, but they did communicate through the bathroom door.
"I haven't actually spoken to Barack because he's busy. He did a little speech prep yesterday and I fell asleep before he got home," Soetoro-Ng said.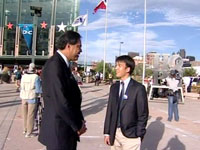 KITV's Shawn Ching tells us more about a non-partisan educational program held during the convention that aims to give kids a balanced perspective of the 2008 election season and House Representative Neil Abercrombie's reaction to Barack Obama's nomination. 08/27/2008.
"And this morning he was in the john and I was knocking on the door, (and said) 'Love ya.'
Soetoro-Ng added that she had a chance to meet the family of Democratic vice presidential nominee, Sen. Joe Biden.
"I think Biden is great ... They are really good people.
"They present a fairly strong contrast to our family, together we look like a Ralph Lauren ad," Soetoro-Ng laughed.
While Biden's family is white, Soetoro-Ng and Obama are multiracial. Her father was Indonesian and she and Obama share a white mother. Soetoro-Ng is married to Konrad Ng, who is Canadian and of Chinese ancestry.
Also speaking for Obama before the three delegations were Daniel Dae Kim, one of the co-stars of the ABC network show "Lost," and movie star Kelly Hu, a Hawaii native.
Kim said he hopes that he will be able to campaign for Obama during the fall, noting that while he was born in Korea, he grew up in Pennsylvania and would like to campaign in battleground states.
Hu said she was one of Obama's early supporters and was already on the campaign trail when she was asked to appear in the YouTube video "Yes, you can" at the beginning of Obama's campaign.
"The night I got the call to do that video I was driving back from San Francisco doing a fundraiser for Barack and before that I had been in Nevada caucusing and hanging door-knockers.
Obama might be the first black American to claim the presidential nomination of a major political party, but for Hawaii he is home-grown: the first person born and educated in Hawaii to clinch the nomination.
"It was amazing," Maui delegate Kari Luna said to describe the feeling when Sen. Hillary Rodham Clinton moved that Obama be nominated by acclamation.
"There are no words to describe the feeling on the floor, how electric it was and how proud everyone is of their state and their vote and how great it is to be an American," Luna said.
First-time delegate Veronica Duzon felt a link to the moment as someone like Obama who is biracial; she is African-American and Filipino, an attorney and the same age as Obama.
"I almost jumped out of my skin. This was the first African-American that has a serious possibility of becoming president, and this is all happening in my lifetime," Duzon said.