Bribery charges net 1-year term
A prosecutor calls it insufficient for an ex-city worker's crime
A former city employee's one-year prison sentence for accepting bribes was a slap on the wrist, according to a city deputy prosecutor.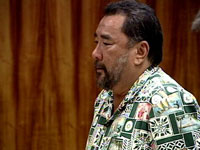 Former Motor vehicle registrations clerk, Brian Hamasaki pleaded guilty to theft and bribery counts.
"The sentence minimizes the seriousness of the conduct, and it strikes a blow to the integrity of the criminal justice system. Public officials are to serve the public, not their own self-interest," said Deputy Prosecutor Chris Van Marter after Brian Hamasaki's sentencing yesterday.
Circuit Judge Richard Perkins sentenced Hamasaki, a former customer service representative for the city Division of Motor Vehicles and Licensing Branch, to a year in prison for bribery and five years' probation. Hamasaki, 52, was also ordered to pay $35,646.88 in restitution.
Hamasaki, who worked at the Fort Street Mall Satellite City Hall, discovered a hole in the computer system. Two separate systems were used: one for processing vehicle registrations and the other to process fees. The city did not have a system in place to cross-check the two systems.
Hamasaki took bribes from companies and individuals for updating vehicle registrations at half the cost. Van Marter requested that Hamasaki serve 15 years in prison, saying that he accepted more than 100 bribes for at least 12 years and deprived the city of more than $50,000.
Hamasaki broke down in tears when his wife, Diane, testified that prison time for her husband would greatly affect their three children and her mother. Hamasaki has been his mother-in-law's caretaker since she was diagnosed with stomach cancer. "It would be very detrimental to my family if he were to serve prison time," she said. "I know what he did was wrong. He knows what he did was wrong."
Hamasaki apologized in court yesterday for his actions. "I'd like to say sorry to the city and to the public for what I did. I'd like to apologize to my family for making shame on the Hamasaki name," he said.
"It's a tough sentence, and it's fair despite the fact that he has to serve 365 days," Hamasaki's attorney, William Jameson, said.
Hamasaki is due to report to Circuit Court tomorrow morning to begin serving his sentence. He was fired from his job after his arrest last year.
Meanwhile, the Customer Services Department is upgrading computer systems at all satellite city halls to prevent similar actions from occurring.