Hawaii not immune to 'liar loan' crisis
Defaults nationwide hit record numbers
In the mortgage industry, they are called "liar loans" - mortgages approved without requiring proof of the borrower's income or assets. The worst of them earn the nickname "ninja loans," short for "no income, no job, and (no) assets."
The nation's struggling housing market, already awash in subprime foreclosures, is now getting hit with a second wave of losses as homeowners with liar loans default in record numbers. In some parts of the country, the loans are threatening to drag out the mortgage crisis for another two years.
Although it is unclear how many of the loans were granted in Hawaii, some mortgage industry experts estimate that from 2004 to 2007 about 10 to 14 percent of loans in this state were subprime and of those about half were mortgages that did not require proof of income or assets.
There's no such thing as liar loans in Hawaii, said Stephen Higa, a mortgage broker at Point Financial who has worked in Hawaii's mortgage industry for more than 20 years.
"The industry stopped that six or seven months ago," he said, but added that for some the damage has already been done. "Most of the people that we see who are in trouble in Hawaii had liar loans."
Many homeowners with liar loans are stuck. They can't refinance because housing prices in those markets have nose-dived, and lenders are now demanding full documentation of income and assets.
In addition, many liar loans in Hawaii had built-in prepayment penalties that have made it difficult for homeowners to refinance, Higa said.
"They would have to come to the table with thousands of dollars to pay off the prepayment penalties," he said. "That on top of everything else, like rising gas prices and a faltering economy, has really boxed them in."
Losses on liar loans could total $100 billion, according to Moody's Economy.com. That's on top of the $400 billion in expected losses from subprime loans.
Fannie Mae and Freddie Mac, the nation's largest buyers and backers of mortgages, lost a combined $3.1 billion between April and June. Half of their credit losses came from sour liar loans, officially called Alternative-A loans because they are seen as a step below A-credit, or prime, borrowers.
Many of the lenders that specialized in such loans are now defunct - banks such as American Home Mortgage, Bear Stearns and IndyMac Bank. More lenders may follow.
While fewer subprime and liar loans were made in the Hawaii market and therefore fewer mortgage companies and lenders have gone under, the market has not been completely insulated from the fallout, said Honolulu-based real estate analyst Stephany Sofos.
"Lending standards have tightened so much that even good borrowers in Hawaii are having trouble qualifying for loans and that is slowing down the market," Sofos said. "Fewer loans means fewer sales and that means declining values."
The loans were also immensely profitable for the mortgage industry because they carried higher fees and higher interest rates.
During the housing boom, liar loans were especially popular among investors seeking to flip properties quickly.
"We hardly did any of these loans and the ones that we did were mostly reserved for foreign investors or more sophisticated borrowers," said Zoebel Dela Cruz, principal broker of Team Mortgage Hawaii. "It's not necessarily a good thing that there are now less options available for qualified buyers."
They were also commonly paired with "interest only" features that allowed borrowers to pay just the interest on the debt and none of the principal for the first several years. Even riskier were "pick-a-payment" or option ARM loans - adjustable-rate mortgages that gave borrowers the choice to defer some of their interest payments and add them to the principal.
Many Hawaii real estate agents and brokers, who were self-employed, used these loans to finance their own purchases, Dela Cruz said.
Now that business has turned, some real estate agents and mortgage brokers are having a harder time making their payments, Dela Cruz said.
"It's really sad," she said. "This is a very tough time in the industry."
Star-Bulletin business writer Allison Schaefers contributed to this report.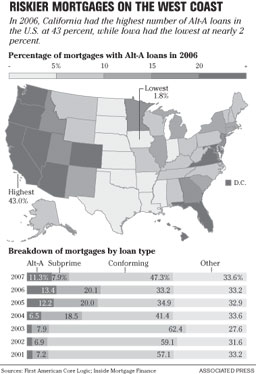 [ click image to enlarge ]