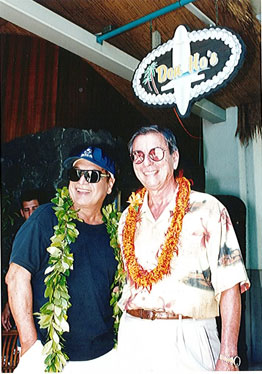 COURTESY F.L. INC.
Don Ho, left, and Fred Livingston on the day Livingston purchased Don Ho's Island Grill in 2002.
Don Ho's is up for sale

Don Ho's Island Grill
is on the block, which will allow longtime restaurateur Fred Livingston to carry out his years-old threat to exit the business he has been in for some 30 years.
In the last three decades Livingston has owned Matteo's, Trattoria, Tahitian Lanai, Crouching Lion Inn, Davey Jones Ribs, Sunset Grill and Tower Grill.
Don Ho's opened in December of 1998 at Aloha Tower Marketplace with much fanfare, given its world-famous namesake and its part owner, legendary entertainment mogul and Maui resident Shep Gordon.
The kitschy, tiki-themed restaurant and bar got off to a rough start with restaurant critics, with the Star-Bulletin's Nadine Kam memorably describing its Shanghai Crab and Pork Hash Dumplings as "pincushion-size grease bombs."
Prompt personnel changes led to kinder reviews.
Ho's numerous visits were sometimes planned, sometimes spontaneous and often written about for the musical merriment that ensued.
Livingston bought the restaurant in 2002 and continued its traditions of live entertainment, private parties and the largest collection of Don Ho memorabilia on display.
Ho's death in April of 2007 left a morass of estate matters and last April, Livingston was unable to obtain from trustees, an agreement to keep using the Don Ho name.
He agreed to change the name by the end of the year.
Any buyer will not get to use the name, but will get what Livingston called a built-in staff of employees who have been with his restaurants for many years.