2 electric vehicles add to UH security
Security at the University of Hawaii at Manoa is being enhanced with two personal electric vehicles that can ride in almost a foot of water, on handicap-accessible ramps and even in elevators, officials announced yesterday, the first day of classes.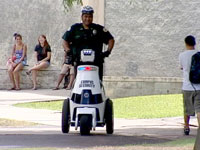 UH Security officials are riding high around campus on a brand new set of wheels.
University officers began riding the vehicles - which look like a Segway with three tires - on Friday and over the weekend as students moved into dorms, said campus security chief Neal Sakamoto.
The school paid California-based T3 Motion about $21,000 for the vehicles, which have flashing red and blue lights, a siren and adjustable headlights that can be pointed to dark areas. Also included is one trailer for hauling equipment such as signs and cones. The vehicles will be on patrol 24/7, officials said.
The vehicles are used by at least two local shopping centers, a number of mainland colleges and some police departments, Sakamoto said. Besides having a low operating cost, they also allow officers to respond to calls without getting tired, he said.
UH-Manoa has 41 security officers, about six electric carts, seven bicycles and some vans.
The previous academic year at the campus was marked by a series of break-ins at dormitory rooms, but Sakamoto said crimes have since been limited to thefts of bikes and mo-peds.
Meanwhile yesterday, the university began closing the Maile Way gate to the campus off University Avenue from 10 p.m. to 5 a.m. to improve security. The East-West Road gate on Dole Street will remain open during those hours.
A source of continuing concern to campus security in past years have been incidents in which outsiders responsible for thefts and other problems have driven through campus late at night, the university has said.