| | |
| --- | --- |
| | Wood Craft |
---
Callieses hit Broadway, visit WTC location
Laurie Callies
is home after a trip to New York City and is preparing for the ProjectFocus Hawaii invitation-only exhibit reception Aug. 31 at Alan Wong's Pineapple Room at Macy's Ala Moana. Laurie and her husband, attorney
Dave Callies
, saw four shows on Broadway, including "South Pacific." They visited with longtime friend
Loretta Ables
, who plays Bloody Mary in the hit musical.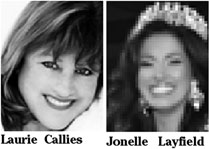 "Her performance was simply stellar and the production was truly magnificent," Laurie said. Notables in the audience included
Lainie Kazan, Tyra Banks
and
Doris Roberts
, who played the mom on "Everybody Loves Raymond." They also had a personal tour of the World Trade Center site and the 52-story 7 World Trade Center building conducted by 7 WTC's marketing director,
Dara McQuillan.
They
met with
Larry Silverstein
, head of Silverstein Properties. In 2001 Silverstein completed the largest real estate transaction in N.Y. history when he signed a 99-year lease for the 10.6-million-square-foot World Trade Center for $3.25 billion. It was destroyed in the 9/11 terrorist attacks six weeks later. "The visit was a somber one and clearly put things in perspective," Laurie said. They toured the New York Stock Exchange where her nephew,
Carter Evans,
reports for CNN's "Money Matters." They met with Carter and his wife,
Courtney Friel
, a FOX News entertainment reporter. Too bad Laurie, a member of the kamaaina
Chillingworth
ohana, did not run into ABC's
Cokie Roberts
. She may have had a few things to tell her for dissing Hawaii-born
Barack Obama
for vacationing in what Cokie called his "exotic" birth state ...
...Laurie and LISA Uesugi founded ProjectFocus to help at-risk children learn photography skills while building self-esteem. In this exhibit, all the participating children have mothers either incarcerated at the Women's Correctional Center or are residents of Ka Hale Hoala Hou No Na Wahine, a community-based re-entry program. The exhibit will open to the public Sept. 1-14 at Macy's Ala Moana, third floor. It then travels to Kahala Mall, Windward Mall and other venues ... Former Police Chief Lee Donohue's Kick Start Karate program also focuses on at-risk youngsters and keeps them on the right path. The annual Kick Start fundraiser is scheduled for Aug. 31 at the Bayer Estate. Call Leanne Williams at 625-2853 for details ... Miss Hawaii USA Jonelle Layfield heads for Japan next month to promote Hawaii and the USA ... Emme Tomimbang has Alan Wong as co-host for "Emme's Island Moments -- Chef Du Moments," on KHON2 at 9 p.m. Sept. 4. A rebroadcast is booked Sept. 6 at 4 p.m. The show features Hawaii's top chefs with their signature dishes, farmers and their products, and the services provided by Easter Seals Hawaii ...
Ben Wood
, who sold the Star-Bulletin in the streets of downtown Honolulu during World War II, writes of people, places and things in our Hawaii. E-mail him at
bwood@starbulletin.com