---
HAWAII
Isle gas prices drop slightly
Gasoline prices continued to slide the past week, with the statewide average dipping by two cents to $4.42 a gallon for regular unleaded, according to AAA.
Yesterday's average price in Honolulu was $4.32 a gallon for unleaded, down three cents from last week's price, six cents less than last month, and $1.18 higher than last year. In Hilo, the average price was $4.49 a gallon, three cents more than last week, two cents less than last month, and $1.19 higher than last year. The average price in Wailuku was $4.68 a gallon, a penny below last week, less than a penny under last month, and $1.14 higher than last year.
"Prices have dropped again by a few cents for the fourth week," AAA Hawaii Regional Manager Richard Velazquez said in a statement. "Hawaii's prices remain stubbornly high and are now second highest in the nation behind Alaska."
---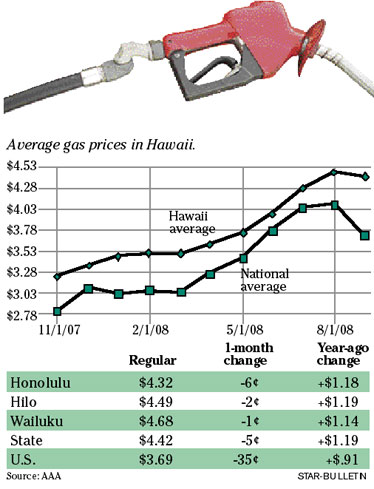 ---
Ilikai developer ruling postponed
U.S. District Court Judge David Ezra postponed ruling on whether to dismiss a lawsuit alleging that Ilikai hotel developer Brian Anderson mishandled investors' money in his attempt to redevelop the landmark Waikiki property.
Ezra said yesterday that he needed more time to make a decision after hearing arguments by the defendant, who is seeking to dismiss the complaint, and plaintiffs, Network Development Properties LLC and California investor Gordon Carlson, who filed the complaint on June 13. He is expected to rule within the next few weeks.
The suit, which is among a number of complaints filed against Anderson in recent years by Ilikai tenants and investors of his other hotel ventures, seeks to remove Anderson as manager of the Ilikai, stop him from using any assets or company funds for his own benefit and prevent the authorization of a "fire sale" of the unsold rooms for an average $200,000 per unit.
Maui eatery Rusty Harpoon moves
Rusty Harpoon at Kaanapali Beach is moving to a larger location at 2290 Kaanapali Parkway. The new
Rusty Harpoon Restaurant & Tavern
will overlook the 18th hole of the
Kaanapali Golf Resort
as its premier clubhouse.
Doors will open at the new location on Sept. 6, and a grand opening celebration is scheduled for Oct. 10. The expanded dining room now seats 214, and the restaurant is using the increased space for live acoustic music, pool tables and old-fashioned shuffleboard.
The Rusty Harpoon will also be handling food and beverage duties for the resort's golf carts and snack shops.
NATION
Steve & Barry's sale approved
NEW YORK »
Steve & Barry's LLC
, the bankrupt retailer that has one isle store at Waikele Center, won court approval yesterday to sell its assets for $163 million after the company agreed to drop a condition of the deal that would have protected its founders from lawsuits.
U.S. Bankruptcy Judge Allan Gropper in Manhattan said Steve & Barry's can sell its assets to BHY S&B Holdings LLC, a newly formed affiliate of Bay Harbour Management LC and York Capital Management. Steve & Barry's co-founders Steve Shore and Barry Prevor are investors in BHY S&B Holdings.
Merrill settlement worth up to $7B
WASHINGTON, D.C. » Federal regulators said yesterday that investors who bought risky auction-rate securities from
Merrill Lynch & Co.
before the market for those bonds collapsed will be able to recover up to $7 billion under a new agreement.
The largest U.S. brokerage will buy back the securities from thousands of investors under a settlement with the Securities and Exchange Commission, New York Attorney General Andrew Cuomo and other state regulators over its role in selling the high-risk bonds to retail investors.
HAWAII INC
Promotions / New Hires
» Halekulani has named
Geoff Pearson
as director of sales. He was previously director of sales for the Mauna Lani Bay Hotel & Bungalows and has also held operations and sales positions for Sheraton Palace Hotel in San Francisco, Sheraton Princeville Hotel on Kauai and Sheraton Princess Kaiulani.
» Hawaii BioEnergy has named
Paul S. Zorner
as president and chief executive officer. He has more than 20 years of international experience in renewable fuels research and development including chief scientific officer, founder and executive director of PEL; former steering committee member for California's Secure Transportation Energy Partnership and serving on the board of directors for Kuehnle AgroSystems in Hawaii.
» Carlsmith Ball has announced the following new managing partners:
•
Joanne Lo Grimes
comes from the Guam office, practicing in fiduciary representation as legal advisor to the Government of Guam Retirement Fund and representing private sector boards of trustees of for-profit and nonprofit trusts.
•
Terri Ann M.K. Motosue
practices in real estate property, representing real estate developers in acquisition, disposition and development of retail, residential and industrial properties; and in corporate law, representing major commercial banks and investment banks.
•
Marcia K. Schultz
practices in a broad range of clients, working with hotels, golf courses, retailers, tour companies, restaurants, financial institutions and foreign companies since 1989.
---

---
» Whole Foods Market has announced the following new appointments:
• Larry Hoover as store team leader at the Kahala Mall store. He has more than 30 years of retail, store operations, buying and store planning experience, including Wild Oats Community Market and opening the first Costco Wholesale in Hawaii near Salt Lake.
• Ray Stockton as store team leader at the Kahala Mall store. He was previously at Gelsons Market in Burbank, Calif. and has worked with Whole Foods Market for three years.
• Claire Sullivan as community and vendor relations coordinator for all of the Whole Foods Market Hawaii locations. Her previous jobs include Maui Land & Pineapple Co., the Hawaii State Legislature, The Nature Conservancy of Hawaii and the Hawaii Community Loan Fund.
» Aloha United Way has announced the following new hires and promotion in its campaign department:
• Millie Ho as an administrative assistant. She was previously administrative assistant and head coach for It's All About Kids.
• Syvette Johnston as assistant vice president of campaign from administrative assistant. She is also a member of Aloha United Way's Society of Young Leaders.
• Karen Quimoyog as assistant vice president of campaign. She was previously facilities manager at Windward Community College.
Awards / Certifications
» The U.S. Local Business Association (USLBA) has honored Dreams of Paradise Gallery with the 2008 Best of Hilo award in the art galleries and dealers category. The Washington, D.C.,- based association's Best of Local Business award program recognizes outstanding local businesses countrywide that enhance the positive image of small business through community and customer service.