Good as gold
Kaneohe's Bryan Clay wins the decathlon by the largest margin in 36 years
»
Further Review: Clay is truly golden
BEIJING » Bryan Clay brought the Olympic decathlon title back to the United States, and it wasn't even close.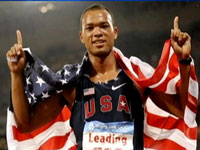 No other school can be more proud of the decathlon athlete than Bryan Clay's Alma Mater, Castle High School.
"We've got the 'world's greatest athlete' now," he said.
Clay, who was born in Texas and grew up in Hawaii, finished the 10-discipline competition with 8,791 points today, just 100 off Dan O'Brien's American record and a whopping 240 ahead of the silver medalist.
It was the most one-sided decathlon triumph since the 1972 Munich Games.
Clay joins the likes of Bruce Jenner and Jim Thorpe as Olympic champions in an event that an American has won 12 times in 22 Olympics but only twice since 1976.
The event no longer grabs the headlines back home.
Case in point: Clay's triumph came just minutes before Usain Bolt and Asafa Powell led Jamaica to a world record in the 4x100 relay. When their news conference started, all but a handful of reporters left Clay.
"I hope the Wheaties box and all those types of things happen," he said. "I'd love for this to be a spark for the decathlon and bring it back to the forefront of track and field."
Clay took the lead from the start yesterday, then widened it through most of today in a triumph his opponents could only admire. He was no worse than third in seven of the disciplines, including an Olympic-best 167 feet, 5 inches in the discus.
"Bryan Clay is king now," said Roman Sebrle of the Czech Republic, the world-record holder and 2007 world champion who finished sixth.
Clay led by a nearly insurmountable 479 points going into the final event. It was the 1,500 meters, and Clay was so exhausted he could manage little more than a trot around the track in 5 minutes, 6.59 seconds.
When it was over, Clay sat on the track, then plopped on his back, chest heaving. Four years after settling for silver, Clay had wrested the decathlon title from Sebrle. He barely had the energy to celebrate.
Andrei Krauchanka of Belarus won the silver, Leonel Suarez of Cuba the bronze.
Clay is the first American to win the decathlon since O'Brien in 1996. He is small by decathlon standards, maybe the best athlete ever under 6-feet.
"I'm OK with that," he said.