HTA forgives executive's laptop misuse
The tourism board ends nine days of waiting by reducing Rex Johnson's salary
STORY SUMMARY »
Nine days after holding a seven-hour closed-door meeting to decide the fate of its top executive, the Hawaii Tourism Authority made public its decision to allow him to stay in his job.
Rex Johnson, the agency's president and chief executive officer, could have been fired for using a state laptop to e-mail pornography to friends. Instead, the HTA board reprimanded Johnson, cut the length of his employment contact to a year and reduced his annual salary by $40,000. The new contract, worth $200,000 a year, also makes clear that improper computer use is considered cause for termination.
Contrary to industrywide speculation, the HTA said yesterday that Johnson has its full support going forward. The HTA's delay in announcing its decision had caused some members of the visitor industry to question whether the board was fully confident in Johnson's ability to lead the organization during a critical time.
While public support for Johnson throughout the ordeal had been mixed, he garnered overwhelming support from members of the state's visitor industry. Several state legislators also had rallied to his cause, although Gov. Linda Lingle publicly criticized his actions.
Johnson, who previously apologized to the HTA board for his transgression, said he will abide by its decision. Following notification of the HTA's recommendations, Johnson thanked the board for its confidence in his ability to lead.
---
FULL STORY »
Despite acknowledging that he used his state laptop to forward e-mail porn to friends, the Hawaii Tourism Authority's embattled top executive will keep his job.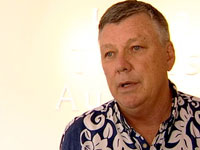 HTA president keeps job but gets his pay cut and the length of his contract.
Rex Johnson, president and chief executive of HTA, will stay at work under a new contract which, among other revisions, reduces his annual salary to $200,000 from $240,000, HTA board Chairman Kelvin Bloom said yesterday.
Unlike Johnson's previous multiyear contracts, the new contract expires in one year and includes termination-with-cause language that spells out the penalty for a computer-use violation, Bloom said. The HTA also issued Johnson a verbal and written reprimand, he said.
The HTA held a seven-hour closed-door meeting to decide Johnson's employment status on Aug. 12. However, it took the board nine days to go public with its controversial decision. The delay caused much speculation in the visitor industry as to whether HTA members were reacting to Johnson's transgression, which was uncovered by a state auditor in June, or instead were questioning his ability to lead the organization during a critical time.
"We are pleased to have resolved this issue, and Rex has the board's full support going forward," Bloom said. "The new contract is strictly for one year. We'll have to address this matter next year."
Though Johnson did not testify publicly at the Aug. 12 hearing, Bloom said Johnson had apologized to HTA members for the misuse of his state laptop. The HTA has "accepted (Johnson's) apology but sternly warned that any future infractions will be treated more severely," Bloom said.
While public support for Johnson had been mixed throughout this ordeal, he received overwhelming support from his staff and from the visitor industry. Their e-mails and letters came from throughout the islands as well as far-flung destinations like Singapore and Costa Rica. Several state lawmakers also sent in testimony or spoke to the HTA on Johnson's behalf. However, Gov. Linda Lingle publicly voiced her criticism of his behavior during a televised interview.
Yesterday, in reaction to the HTA's decision, Johnson said that he appreciated all of the support shown to him by members of the community, visitor industry and staff.
"Once again, I apologize for my error in judgment, which put the board in a very difficult position," Johnson said, adding that he will abide by its decision.
He also thanked HTA board members "for their confidence in my ability to lead HTA as we move forward to address the challenges facing the tourism industry."