Shove off on Friday aboard the 'Liquid' party cruise
IT'S BEEN a while since I've heard about a promoter making a go at club-style boat cruises on a regular basis in Honolulu. Cost has always been a factor, since those who go usually end up paying higher admission prices to cover the ship's rental, then get hit again by tourist prices at the bars. Seasickness is another obvious concern, especially with alcohol and dancing involved.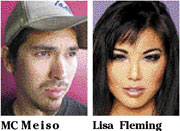 Those issues don't concern Shane Curtis, who kicks off "Liquid" on Friday aboard the Alii Kai Catamaran. With backing from Clear Channel Hawaii and Better Brands, he's managed to keep his costs down -- and offer $4 drinks at the bar!
"The boat party thing hasn't been done in a while, and I'm only charging $20 for this first one," he said. "It's a really stable vessel ... (and) we're gonna cruise along Waikiki, so it should be pretty mellow."
Curtis hopes the water will be mellow, but things should be rocking topside with Busekrus and 82Fifty playing live and DJs Rayne and Technique spinning on different levels of the ship. All passengers should be aboard by 9:30 p.m. Friday at Pier 5; call 348-9137 for VIP reservations ...
DURING THE SIX years that I've covered the nightlife scene, there have only been a handful of times when I felt my personal safety was at risk. For the vast majority of club kids, heading out for a night with friends simply means drinks and dancing, with the possibility of meeting somebody new.
Most of the time, things go smoothly and everyone makes it home in one piece. When something goes wrong, however, Honolulu Liquor Commission administrator Dewey Kim is usually among those who hear about it.
"I don't think things have changed that much," Kim said earlier this week when asked if it's getting more dangerous for Oahu's party people. "Guys go where the girls are, so if you get the women in, the guys will come.
"The problem, and we see this at the bars all the time, is people take off the (over-21) wristbands and give it to the girl who is 19."
Underage drinking, violent confrontations and illicit drugs are the biggest issues facing the industry, and they are a "continuing problem" for the Liquor Commission, according to Kim.
Fashion45 is the latest casualty, after the nightclub lost its appeal last week on two charges of serving liquor to a minor and had its license suspended. Kim said he expects them to not serve alcohol for a period of three weeks starting in early September.
"A lot of the parents complain to us ... because they know we're gonna do something about it," he said. "We're at these bars every single night, (and) if you can't regulate (an 18-to-20 year old crowd), then you shouldn't have it because you're going to get in trouble" ...
IT'S ANOTHER weekend packed with opportunities to enjoy live music, and you can get started Friday at Anna Bannana's with an 18-and-over show headlined by Go Jimmy Go. They'll be joined by The Spacifics and Japanese-rapping MC Meiso starting at 9 p.m. ... On Saturday, the "Good Vibez Summer Series" lands at Pipeline Cafe with Rebelution and Natural Vibrations. Doors open at 9 p.m. for the 18 and over crowd, with Pacific Sounds Outernational on the decks. Tickets are $25 at the door ... California rockers Unwritten Law return to Pipeline Wednesday in support of "Live and Lawless," their first-ever live album and DVD set. Tickets are $25 and $50; doors open at 7 p.m. ...
WEEKEND PICKS: Kona Street nightclub Xyloh will cram more than 25 DJs into five rooms during "Solar System 2: Green Planet" on Friday. Trance, house, progressive, drum-n-bass, techno and hardcore are among the genres you can expect, with DJs PSI, Toki, CyrusFX, Jaegurl and friends on the decks until 4 a.m. ... Positive Regime and Pacific Sounds Outernational partner for a new monthly at Indigo. "Dancehall City" will feature "strictly bashment" in the Opium Den, with "Lovers Delight" in the Green Room at the restaurant. The skanking starts at 9 p.m. ... Subaru of Hawaii presents "The Neo Street Car Show" at the Blaisdell Exhibition Hall from 6 to 11 p.m. Friday and 11 a.m. to 11 p.m. Saturday. Kutmaster Spaz will host the two-day event, which features a b-boy battle, go-go/booty/bikini contests, remote-controlled drifting exhibition and an appearance by import model Lisa Fleming. Visit www.streetcarshowoff.com for more ...