Mental ills blamed on budget cuts
Michael A. James, who killed his wife and son, then hanged himself last month, suffered from bipolar disorder and "just snapped," says his brother.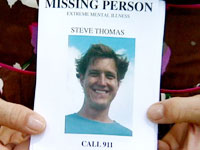 The dilemna? How to get help for those who need it, before they hurt themselves and others.
In a conference call at a legislative hearing on mental illness in Hawaii yesterday, Charles James of Mobile, Ala., said the family was shocked.
"We never anticipated what he did," James said.
In another case last month involving bipolar disorder, 36-year-old software millionaire Steven Thomas of Lanikai was found dead below the Pali Lookout July 13, nearly two weeks after he disappeared.
Those cases have sounded alarm bells among many agency chiefs, who flocked to the Capitol yesterday to complain that state mental health services have slipped, particularly for young people, over the last two years. That's when care mandates ended as part of a court agreement known as the Felix consent decree.
The briefing was held by Rep. John Mizuno (D, Kamehameha Heights-Kalihi Valley-Fort Shafter), Health Committee vice chairman and the only committee member present.
Among the problems cited: budget cuts, vacancies in key positions, lack of interagency coordination and a loss of providers because of late payments and reimbursement rates lower than costs.
Judith Clark, Hawaii Youth Services Network executive director, said residential providers saw a sharp drop in placements starting immediately after the consent decree ended.
"Did the need for residential mental health and drug treatment truly decline so quickly just at that time?" she asked.
Dr. Alfred Arensdorf, former medical director in the state Child and Adolescent Mental Health Division, said the number of students eligible for special education declined more than 7 percent from March 2006 to March 2008 -- to 20,754 from 22,464.
The greatest declines were in emotionally disturbed youths and those with specific learning disabilities.
Some of the old barriers addressed under the Felix decree have returned, said Ivalee Sinclair, head of the state Special Education Advisory Council.
"This has caused silos of 'It's not my responsibility' to resurface, resulting in children and youth potentially falling through the cracks and not receiving appropriate services," she said.
Michelle Hill, state deputy director for behavioral health, said $365.5 million was spent for behavioral health care services in 2006-2007, including adult, child and adolescent services and early intervention for infants under age 3.
Former state House Health Chairman Dennis Arakaki, a member of a task force on child and adolescent mental health, said that even though funding was dramatically increased under the consent decree, systemic and coordination problems remain between departments.
With the state revenue slump, he said, it's essential that the Legislature and state departments better coordinate services in a seamless system.
Sen. Suzanne Chun Oakland (D, Sand Island-Kalihi-Liliha-Nuuanu-Pauoa-Puunui), Human Services and Public Housing chairwoman, also a task force member, said providers are reporting a trend against early identification of children who need help.
Michael James, his wife, Grineline "Elaine" James, 39, and their son, Michael James Jr., a third-grader, were found dead in their Mililani home July 2.
Charles James said his brother, 43, told him 10 years ago that he had bipolar disorder, but there were no signs of the illness.
They spoke every week by telephone and everything seemed normal, he said. He said his brother was a loving father and caring husband.
The painful pendulum
Bipolar disorder or manic-depressive illness causes dramatic mood swings, from overly "high" or euphoric and extreme irritability to sad and hopeless and back again, with normal mood periods in between.
It can lead to suicide, but it can be treated, according to the National Institute of Mental Health. Severe changes in energy and behavior accompany mood changes. Periods of highs and lows are called episodes of mania and depression.


Symptoms of a manic episode:
» Increased energy and activity, an excessively "high," euphoric mood; extreme irritation; very fast speech and racing thoughts; poor concentration, easily becoming distracted; little need for sleep; unrealistic beliefs in one's abilities and powers; poor judgment; spending sprees; a lasting period of unusual behavior; increased sexual drive; abuse of drugs, particularly alcohol, cocaine and sleeping medications; aggressive, provocative, intrusive behavior; and denial that anything is wrong.

Signs of depression:
» An abiding sad, anxious or empty feeling; feelings of hopelessness or pessimism, of guilt, worthlessness or helplessness; loss of interest in once-enjoyable activities, including sex; decreased energy, a feeling of fatigue or being "slowed down"; difficulty concentrating, remembering and making decisions; restlessness or irritability; inability to sleep or sleeping too much; a change in appetite and/or unintended weight loss or gain; chronic pain or other bodily symptoms not caused by physical illness or injury; thoughts of death or suicide, or suicide attempts.
Source: National institute of Mental Health