DRAWN & QUARTERED
Memories of Mauldin
In early 1945, with Allied troops slugging it out with entrenched Nazi fanatics, Gen. George Patton had pressing business. He ordered U.S. Army corporal and cartoonist Bill Mauldin to report to headquarters.
"WILLIE & JOE: THE WWII YEARS"
By Bill Mauldin and edited by Todd DePastino

Two-volume slipcased hardcover set

700 pages each, Fantagraphics Books, $65
As Mauldin recalled in an autobiography, Patton was steaming: "Now then, sergeant, about those pictures you draw of those God-awful things you call soldiers. Where did you ever see soldiers like that? You know goddamn well you're not drawing an accurate representation of the American soldier. You make them look like goddamn bums! No respect for the army, their officers, or themselves. You know as well as I do that you can't have an army without respect for officers ... I don't know what you think you're trying to do, but the Krauts ought to pin a medal on you for helping them mess up discipline for us."
Afterward, Mauldin simply told his buddies, "I didn't think I had convinced him of anything, and I didn't think he had changed my mind much, either."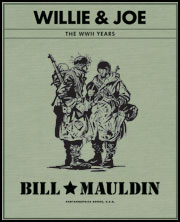 This dangerous thorn in the general's side was made of ink and paper. Mauldin's cartoons of dog-tired GIs, widely reproduced in the military Stars and Stripes newspaper, presented an image of combat that was muddy, weary, capricious and dangerous, molding the soldiers into fatalistic field workers instead of noble warriors. This very lack of propaganda, combined with a very American, laconic sense of humor at the injustice of it all, cheered up the troops to no end, because they recognized themselves.
Gen. Dwight Eisenhower weighed in and told Patton to lay off Mauldin. The corporal with the pen and ink, after all, represented exactly what the troops were fighting for, freedom to speak out against inequality and injustice. At what point does military necessity override democratic freedoms?
You're not thinking of Iraq, are you? Because the subject at hand is World War II and Willie and Joe, the iconic doughboys created by Bill Mauldin during the war, and recently reprinted in an incredibly handsome two-volume edition by Fantagraphics Books. But frankly, it's impossible to enjoy Mauldin's cartoons from 60 years ago without thinking of the present.
In 1962, when Mauldin jumped to the Chicago Sun-Times, he refused the title of editorial cartoonist. He said he was a "cartoon commentator," which pretty much sums it up. He stuck up for the little guy, the dogface and citizen trampled by bureaucracy and elitism, and so Mauldin was labeled a dangerous liberal. When the idiots in charge of the asylum are reduced to spluttering, then the journalist/cartoonist is doing his job.
My military parents had a copy of "Up Front," Mauldin's original collection of Willie and Joe cartoons, and I consulted it regularly. His sense of humor was like no other -- acerbic, homespun, pithy. But it was his drawing style that got me. Willie and Joe were drawn with rococo sweeps of a stunted brush, perfectly weighted, with little gray, as if they had been caught by a flash bulb -- or a shell burst -- and the extreme weariness of the troops was illuminated by the artist's keen sense of injustice.
In a Library of Congress exhibit, cartoonist Jeff Danzinger (himself a decorated veteran), described Mauldin's style perfectly: "Mauldin could draw. He was a trained artist. He knew human anatomy. He knew how men stand when they are dead tired, when they are afraid, and how they physically cringe when they are lying. He knew how to draw things like the fall of light and shadow, architecture and perspective, and reflections in the rain-pocked surface of water. He had an eye for detail, for the bolts that hold tank tracks together, for the shaky little folding tables that the U.S. Army set up in the middle of the bombed-out shells of Europe's cities. These things are subtle, but he chose them the way a schooled writer uses words and syntax."
Willie and Joe are American icons, as much as general and presidents, and represent the troops that are forgotten in the politics of the moment. This volume reminds us to never forget that.