UH invites public to rename road
Officials hope Lower Campus Road's new name will reduce the division between areas
There wasn't much of a lower campus at the University of Hawaii at Manoa when Lower Campus Road first came into being in the late 1950s.
NAME THAT ROAD
Send us your suggestions to rename Lower Campus Road. We will forward them to University of Hawaii at Manoa Chancellor Virginia Hinshaw. Send suggestions to nametheroad@starbulletin.com.
The dirt, and often muddy, road led into what was then known as the Quarry, where students parked their cars.
After a heavy rain, the area where the road is now turned into what students called Klum Lake, said university archivist James Cartwright.
Fifty years later, Lower Campus Road is getting an image upgrade -- a name change.
UH-Manoa Chancellor Virginia Hinshaw says she wants to reduce the division between the upper and lower campuses by taking away the name Lower Campus Road.
Hinshaw would rather refer to the different parts of the university as the makai and mauka campuses, rather than lower and upper campus.
She is hoping to come up with a Hawaiian name for the road and is taking suggestions from the public.
"I think if we use our imagination, we can come up with a very appropriate name that conveys our sense of place," Hinshaw said.
Hinshaw said the university is looking at different options to come up with an appropriate name but hopes to make a decision by the end of the academic year.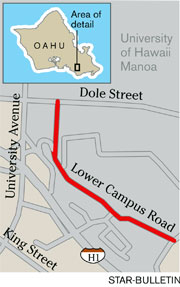 Koa Anuenue, the athletic department boosters organization, has some suggestions, she said. There is also talk of naming the road after a native Hawaiian warrior.
There would be an opportunity to rename the road if a large donor were to come along, Hinshaw said. "We always like that opportunity," she said.
Because the road, which connects Dole Street to Kalele Road and Old Waialae Avenue, is not a city street, the university has the option to name it, she said, adding that "we're looking at different options."
The university acquired the makai or lower campus in 1953 from the Bishop Estate for the development of athletic facilities, Cartwright said.
Lower Campus Road did not exist then, and Dole Street ended at what is now Andrews Amphitheater.
Tennis courts, Klum Gym and ROTC buildings were the first facilities in the makai campus, and Lower Campus Road was paved in the 1960s and 1970s as the athletic facilities were developed, Cartwright said.