170-year-old wreck found in Northwestern Islands
A team of scientists found the oldest wreckage of a whaling vessel in the Northwestern Hawaiian Islands on Wednesday, according to National Oceanic and Atmospheric Administration officials.
About 170 years ago, British whaling ship Gledstanes broke up on the reef of Kure Atoll, where a team of scientists from NOAA's National Marine Sanctuaries found it.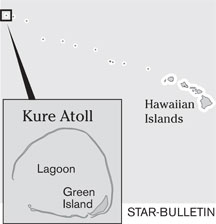 The researchers made the discovery on the day's first dive, halfway into a monthlong expedition to discover shipwrecks in the Papahanaumokuakea Marine National Monument.
Near the end of the dive, the team found a pile of iron ballast and some chain that led into the reef where more artifacts were scattered, including four massive anchors, cannons, cannon balls and a trypot -- a cauldron used to melt whale blubber into oil.
Kelly Gleason, NOAA archaeologist and mission leader, wrote on NOAA's Web site that she has been going to Kure Atoll for years, hoping to search for the Gledstanes, but had been deterred by the weather and bad conditions.
"This year, the Gledstanes was revealed to us, and we couldn't be more thrilled with the opportunity to share this wreck site and its story with the public," she said.
Gledstanes is the fourth whaling ship found in the national monument, showing the significance of the 19th-century whaling heritage in the region, Gleason said. In the summer of 1837, Gledstanes floundered in heavy surf off Kure. The castaways made it to Ocean Island, a small sandy island at Kure, and used wreckage from the Gledstanes to build a 38-foot vessel, Deliverance, which they sailed to safety.
Researchers aboard the NOAA ship Hiialakai will also make stops during their monthlong mission at French Frigate Shoals, Pearl and Hermes Atoll, and Midway Atoll. Mission updates can be found at www.sanctuaries.noaa.gov.