3.0-magnitude earthquake shakes Oahu
A Wednesday morning earthquake 18 miles off the Leeward Coast of Oahu was felt by residents as far away as Kaneohe.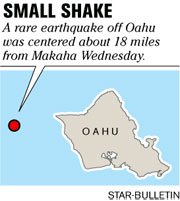 The 1:01 a.m. quake registered 3.0 magnitude on the seismometers of the U.S. Geological Survey.
Its epicenter was 10.2 miles below the surface of the ocean floor.
Oahu is seldom the scene of a seismic event, with only 14 earthquakes recorded on or near the island in the past 50 years, said Jim Kauahikaua, scientist-in-charge of the Hawaiian Volcano Observatory.
The tremor, too small to cause damage, would be unremarkable on the Big Island, where three quakes of 3.0 magnitude were recorded within the last week, he said.
A 4.8-magnitude quake on Sept. 5, 1989, was the largest recorded on or near Oahu in the past 50 years, he said.
The USGS Web page received responses from 50 people who reported feeling the tremor. More than half were from Waianae and Kapolei, but others came from Kaneohe, Mililani, Waipahu, Pearl City and Honolulu.