McCain backers clean dump
State GOP activists try to draw a contrast with Sen. Obama
Sen. John McCain's local campaign got dirty yesterday.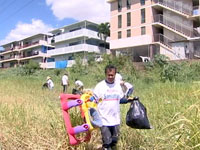 Supporters of Senator John McCain fanned out on a vacant lot in Waipahu, hauling out piles of old tires and garbage that's been festering there for years.
About 45 volunteers and local campaign officials applied sunblock, donned gloves and cleaned up an illegal dump site near the restored Kapakahi Stream.
The area, just off Pupuole Street in Waipahu, has trash tilled deep in its soil, with a storm drain forming a small stream, blackened by trash and tires.
"The problem is that it goes on to the Kapakahi Stream," said Jerry Coffee, chairman of Republican presidential candidate McCain's campaign in Hawaii. "So we're trying to make a dent here."
Republican House candidate Tom Berg, running for the District 42 seat, caught the campaign's eye after alerting local media to the dump site. Berg is running against his former boss, Democratic Rep. Rida Cabanilla.
Berg, the Ewa representative on the Oahu Resource Conservation and Development Council, said the pollutants from the dumping ground would seep into the stream.
The complication of cleaning the mess comes from the fact that three government entities -- the city, state and Navy -- own parts of the land, and nobody has taken ownership of the area.
In October a multiagency task force from the three levels of government will clean up the area and excavate trash out of the soil.
"By us being here today, we expedited that Oct. 4 cleanup," Berg said. "Their resources then could be used for other areas because we've already advanced the endeavor of that day."
The cleanup was also used as a Republican campaigning event. McCain signs were visible, and several lawmakers were there lending a hand.
Coffee said the local campaign will look toward other community projects where they could lend a hand after the Republican Convention next month.
"Rather than hold $2,300-a plate-dinners -- although we will be raising money -- we want to give back," Coffee said, referring to this week's campaign fundraiser in Kahala for McCain's likely opponent, Sen. Barack Obama. "That's going to be the pattern of the campaign."
Coffee said he welcomed Hawaii-born Obama's weeklong vacation, saying that it gave Hawaii voters the opportunity to make a clear comparison between the two candidates.
Still, yesterday's event had a not-so-subtle dig against Obama's price of admission for his fundraiser. The McCain campaign was selling Spam musubis to raise funds for its campaign. The price: $2.30 each.