Obama leaves isles for serious concerns
The Democratic presidential candidate's vacation was a regular getaway
STORY SUMMARY | READ THE FULL STORY
Barack Obama filled his weeklong Hawaii trip with a busy list of vacation activities: snorkeling, golf, bodysurfing, etc.
The Illinois senator returned to the mainland yesterday to face a much weightier "to do" list: pick vice presidential candidate, prepare nomination acceptance speech, run for president, etc.
The Hawaii-born Democratic presidential candidate had returned to visit family and friends for the first time since December 2006, about a month before announcing his long-shot bid for the nomination.
The Obama family left their Kailua rental home at about 9:25 a.m. yesterday, with neighbors waving goodbye to his motorcade. As the motorcade approached Honolulu Airport a half-hour later, a woman held up a cardboard sign that read, "Shaka Baracka."
Obama and his wife, Michelle, said goodbye to Mayor Mufi Hannemann and his wife, Gail, before boarding the campaign jet, dubbed "O-Force One."
The plane took off just after 10 a.m.
STAFF AND MEDIA POOL REPORTS
FULL STORY »
Take away the Secret Service, the 10-bedroom home rental, the staff and the $2,300-a-plate fundraiser, and Barack Obama's vacation in Hawaii included a lot of what anyone can do in paradise for surprisingly little money.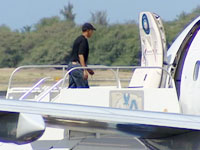 After a week spent vacationing in the islands, Democratic Presidential Candidate Barack Obama headed to the place he now calls home.
It was more the stuff of home videos than an exotic getaway.
Obama waited in line at food counters, took in the view from the Pali overlook, picnicked at Ala Moana Beach Park, paid homage to the dead at Pearl Harbor, bodysurfed the waves at Sandy Beach and watched the latest Batman flick at a multiplex.
The presumptive Democratic presidential nominee and his entourage left the islands yesterday, flying to Chicago to drop off his daughters, Malia, 10, and Sasha, 7, before resuming his presidential campaign today with his first joint appearance with Republican rival John McCain at a church in California.
During the week on the island where he was born, Obama ate at a couple of fancy restaurants but also enjoyed some favorite local spots with family and friends like anyone coming home for vacation.
Many island attractions available to Hawaii's 7 million annual tourists and 1.2 million residents are free -- most notably the beaches, the tropical backdrops and the near-perfect weather.
Other activities are no more expensive than they would be at any mainland tourist destination.
Right off the plane, with wife and daughters in tow, Obama was talking about shave ice, beaches and bodysurfing -- all of which he savored as a kid who lived in a 10th-floor apartment with his grandparents.
While many wealthy people and celebrities have second homes in Hawaii, the Obamas have no luxury compound or ranch that could someday become a summer (or winter) White House. What they have are friends, relatives and roots.
The week in Hawaii gave Obama time with his wife and daughters, and he visited almost every day with his grandmother in the same apartment where he had lived. He also was able to golf, swim and play basketball with old friends who still live here.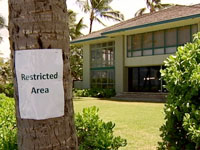 Now that Barack Obama and his entourage have departed- the Kailua Beach community where he stayed for the last week gets back to normal.
For many Americans, though, the distance from other states and the rising airfares can put even a modest Hawaii vacation out of reach. Mainland plane tickets are usually the biggest expense, with round-trip flights often topping $1,000.
Tourism promoters are constantly battling the impression that Hawaii is only for the rich. A survey by AAA released in May estimated it costs two adults nearly $800 a day for food and lodging alone, making Hawaii the most expensive state to vacation in by far. But state tourism officials claim those figures are grossly exaggerated and that daily expenditures for a visiting couple average $358.
If you can get here and do not have to rent a hotel room for an average $207 per night, it is not hard to enjoy paradise for much less than that.
Obama chose one of Hawaii's popular public parks, Ala Moana Beach Park, for a family picnic and swim, avoiding crowded Waikiki with its high-rise hotels and luxury stores that cater mostly to big-spending tourists from Asia.
There were also poignant and nostalgic moments as he spread petals from a lei at a rocky outcrop from which his mother's ashes were strewn in 1995, and stood by his World War II veteran grandfather's grave at the National Memorial Cemetery of the Pacific at Punchbowl.
He took his family to the Aloha Tropical Farm, which gives out free macadamia nut samples, and Valley of the Temples, where he often visited when he was younger. Valley of the Temples charges $2 admission per person.
He went snorkeling with his daughters at Hanauma Bay. It is one of the only Hawaii beaches with an entry fee -- $5 a person for nonresidents but free to locals.
The most costly pleasures Obama enjoyed during his weeklong trip were golf and dinners with his entourage at some of Hawaii's nicer restaurants.
He teed off for 18 holes at Luana Hills Country Club in Kailua, where it costs about $120 a person for a round, according to the club's Web site.