| | |
| --- | --- |
| | Wood Craft |
---
Ex-reporter Nelson has 3rd book published
Retired Star-Bulletin reporter
Lyle Nelson's
latest book has been published recently in New York.

"John Tyler, a Rare Career" is a biography of the 10th president, one in a series of all 43 presidents being done by Nova Science Publishers. The editor of the books in the series is
Barbara Bennett Peterson
, who is retired from the UH history department. Nelson's three-volume earlier work, "American Presidents, Year by Year," was published in 2004 by M.E. Sharpe of New York. It took him 47 years to complete as he started writing it in 1957 in longhand. He did use a typewriter as well and later a word processor. It sells for $225 and is in the state library and the libraries of UH and Chaminade as well as libraries coast to coast, plus London and Hong Kong. He wrote another book called "Budget Hawaii." Lyle, 84, is an amazing guy. He has a photographic memory and, despite his age, has run the last 30 Honolulu Marathons. After fellow Star-Bulletin staffers
Helen Altonn
and
Shurei Hirozawa
ran the marathon in 1975, he said, "Heck, I can do this." So he started doing it in 1978 and has been running it ever since. He recalled that the day he retired from the newspaper back in August 1981, reporter
Harold Morse
and I tied beer cans on the back bumper of his car before he started out for the golf course. He still has those cans hanging in his house ...
DANCING ON: Local boy Mark Tucker, 20, son of Mindy and Alan Tucker and grandson of Gaye Glaser, is home to appear in Ballet Hawaii's production of "Giselle" tonight at 7:30 and tomorrow at 2 p.m. at Blaisdell Concert Hall. The Mid Pacific graduate has been attending the North Carolina School of the Arts and has been recruited by the Eugene Ballet in Oregon. Noelani Pantastico of Ballet de Monte Carlo is another local dancer who came home to appear in "Giselle" ...
Waimanalo's Clayton Makalii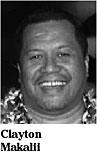 won Oceanic Time Warner Cable's My Island Home Phone "Give Us a Jingle" contest. The victory was worth a $1,500 gift card from Best Buy and five years of free My Island Home Phone service. Second place went to Kaimi Brede and third to Sean Donahue. Clayton's winning lyrics start out with: "My Island Home Phone, you can call me anytime, My Island Home Phone, a month it's $19.95, with caller ID and your name on my TV, From Oceanic Time Warner Cable for me ... "
MANY kamaainas and tourists patronized Spencecliff restaurants during the chain's great years and former employees and their families are getting together for a reunion next Saturday. The party is also open to former patrons, said Chantel Weaver, daughter of co-founder Spence Weaver. It will be held at the Hawaiian Hut South Seas Restaurant, from 10 a.m. to 3 p.m. Spencecliff had more than 50 restaurants or food-related establishments over the years. The Hawaiian Hut was one of them. Brothers Spence and Cliff Weaver started out with Swanky Franky hot dog stands. Reunion tickets are $35. Call 263-2843 ...
Ben Wood
, who sold the Star-Bulletin in the streets of downtown Honolulu during World War II, writes of people, places and things in our Hawaii. E-mail him at
bwood@starbulletin.com