---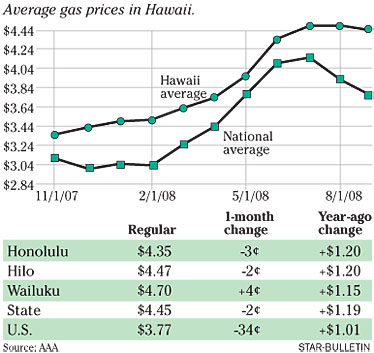 ---
Average isle gas prices drop
Gasoline prices slipped during the past week and the statewide average dipped by two cents to $4.45 a gallon for regular unleaded, according to AAA.
Yesterday's average price in Honolulu was $4.35 a gallon, down three cents less than last month, and $1.20 higher than this time last year. In Hilo, the average price was $4.47 a gallon, two cents less than last month, and $1.20 higher than last year. The average price in Wailuku was $4.70 a gallon, four cents more than last month, and $1.15 higher than last year.
"Prices are declining slightly for the third week," said AAA Hawaii Regional Manager Richard Velazquez. "However, Hawaii motorists are still paying more than a dollar per gallon than we were paying at this time last year."
HomeStreet adds Pearl City branch
Seattle-based
HomeStreet Bank
said yesterday it is opening its newest bank branch in Pearl City Aug. 26. A blessing and grand opening celebration will take place Oct. 16.
The 1,850 square foot branch space is located in the Times Square Shopping Center at 98-1258 Kaahumanu St. It will be a full-service banking facility with night drop and ATM service.
Green-building materials were used in portions of the build out, including carpet tiles made from recycled materials and energy efficient lighting. After the opening, the bank will have five locations in Hawaii.
HTA rules on Rex Johnson's fate
The Hawaii Tourism Authority has made a decision regarding the employment status of its embattled top executive; however the board is still mum on what action that they agreed to take.
Rex Johnson, the agency's president and chief executive officer, faces possible termination for using a state computer to forward e-mail pornography to friends.
Ten members of the board met to decide Johnson's fate on Tuesday after a short public hearing where 52 people offered testimony in support of Johnson. A grueling, nearly seven-hour, closed-door meeting ensued; however, Johnson was left in limbo, when the HTA board declined to tell him or the media how they had decided to punish him.
HTA Chairman Kelvin Bloom would not comment on if or when the HTA would make public its decision.
Fund to assist displaced workers
University of Hawaii Community Colleges are offering tuition assistance from $70,000 in funds set aside to assist recently displaced workers.
The fund provides a one-time, 50 percent discount on tuition, up to a maximum of $500 per eligible laid-off employee. The funds are available of a first-come, first-serve basis until exhausted or June 30, 2009.
Applications may be obtained at any community college admissions and records office. Call 956-5145.
NATION
Merrill Lynch faces Cuomo suit
NEW YORK »
Merrill Lynch & Co.
may face a lawsuit by New York Attorney General Andrew Cuomo, who called the firm's offer to buy back $10 billion of auction-rate debt an inadequate response to claims the firm misled investors.
"We have not been able to reach satisfactory terms" to settle allegations the firm falsely marketed the securities as safe, liquid investments, Cuomo said yesterday.
Merrill said earlier this month it would buy back about $10 billion in frozen auction-rate securities at face value, starting in January.
NEW HIRES / PROMOTIONS
» American Savings Bank has announced the following promotions:
* Alayna Hangai to assistant vice president and manager, commercial and consumer loan administration services from operations coordinator for commercial administration. Her 16 years of banking industry experience include operations supervisor and client relationship officer at Bank of Hawaii.
* Amery Lam to Aina Haina branch manager from commercial services departments manager. His 20 years of banking industry experience include managing the bank's Kahala, McCully, Kapiolani and Hawaii Kai branches.
* Diane Fong to Wahiawa branch manager from University of Hawaii campus branch manager. Her 20 years of experience in Hawaii's banking industry includes HonFed Bank, Bank of America and Hawaii State Federal Credit Union.
» Hawaii Medical Center West has named Dr. Danilo Ablan as chief medical officer. He replaces Dr. Genevieve Ley, who resigned to return to private medical practice on a full-time basis. He was previously medical director of the hospital's Intensive Care Unit/Pulmonary Division and is board certified in internal medicine, pulmonary diseases, critical care medicine and sleep medicine.
» Hawaiian Waters Adventure Park has promoted Takuya Ohki to general manager from vice president and controller. His previous jobs include positions at Lingual Corp. and the Polynesian Cultural Center.
» ProService Hawaii has hired Glenn Roberts as chief financial officer. His experience includes vice president of finance at Markettools in San Francisco, a director in CFO Advisory Services practices at KPMG in Silicon Valley, and various finance and project management positions at Wells Fargo Bank, Verifone, VeriSign and Companyfinance.com.
» Stryker Weiner & Yokota has promoted Dawn Hirai to vice president from account supervisor in the Corporate and Public Affairs division. She will oversee the firm's newly established Public and Government Affairs division with clients including the James Campbell Co., Hawai'i Tourism Authority, NCL America, Kukui'ula Development Co. and Engineers Surveyors Hawai'i. Her experience in Hawaii state government includes a senior advisor to the vice speaker of the House of Representatives and a special assistant to former Governor Benjamin Cayetano.
» The YMCA of Honolulu has hired Michael Chinaka as chief financial officer. His 20 years of accounting and finance experience include vice president and treasurer of the Bishop Museum, director of finance for the Asia Pacific region at The Nature Conservancy, vice president and chief financial officer for Creations in Catering and group controller for The Shidler Group.
CB Richard Ellis has announced the following new hires in its asset services division:
* Marc Higuchi as a real estate services manager in Honolulu . His previous jobs include a management executive for Hawaiiana Management Co. and a property manager for Colliers Monroe Friedlander.
* Russell Asamoto as a senior accountant in Honolulu. His previous jobs include an assistant controller for Sofos Realty Corp. and a senior property management accountant for Alexander & Baldwin.
* Joan Larson as a real estate manager on Maui. Her 12 years of property management operations experience include a real estate principal broker for West Maui Properties in Lahaina and a senior property manager for Property Network in Kailua-Kona.
AWARDS / CERTIFICATIONS
» The American Institute of Certified Public Accountants has honored State Tax Director
Kurt Kawafuchi
with the 2008 Outstanding CPA in State Government Award. The annual national award recognizes CPAs working in state government who have made significant contributions to increased efficiency and effectiveness of government organizations and to the growth and enhancement of the profession. The award will be presented on Aug. 18 at the organization's annual conference in Washington D.C.