Building may continue atop burials
A hearing on a request for an injunction will continue, and a judge lets construction go on
LIHUE » California businessman Joseph Brescia will be able to continue building his home at Naue Point, at least for now, a circuit judge ruled yesterday.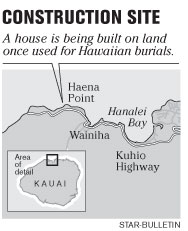 A hearing on a request for a preliminary injunction, filed by the Native Hawaiian Legal Corp. to stop construction of the house, was not finished after about six hours of testimony in court yesterday, and has been continued until Sept. 3.
But an oral motion to keep Brescia from continuing the project until September was denied, Judge Kathleen Watanabe said, because the concrete footings for the home have already been poured.
"I understand the community is split," Watanabe said. "I understand the need for finality and ... some closure."
The site has been the source of protests for months as native Hawaiians fight the building of a luxury beachfront home on a site where burials were found.
Brescia, however, has said in court papers that his workers are being harassed even though he followed all state and county laws in getting permits.
The Native Hawaiian Legal Corp., on behalf of Jeff Chandler, a Haena resident who has family buried on the site where the home is being built, argued that the state archaeologist reversed the decision of the Kauai Niihau Burial Council when she allowed Brescia's contractors to build the home and cap seven grave sites with concrete.
Chandler's lawyers blame state Historic Preservation Division archaeologist and Kauai County Council candidate Nancy McMahon for pushing through both the permits at the county level and the burial council's plan to keep the burials in place. Then, the lawyers argued, she approved the contractor's plan without returning to the burial council for its input.
McMahon, who testified yesterday, said that she double-checked to make sure that the footings were not directly above the graves, and made sure the project followed the instructions of the burial council.
She also testified that no evidence has been found that would make anyone believe the area was a cemetery, rather than 30 individual graves.
However, Alan Murakami, Chandler's lawyer, said that the burial council wanted to preserve the burials as a unit, and McMahon took it on her own to interpret its ruling.
By allowing the house to be built atop the graves, rather than preserving them, "the state has disemboweled the burial council," Murakami added.
The lawsuit was originally brought by Brescia against Chandler and a number of other protesters for allegedly harassing construction workers and trespassing.
But Chandler argued that it was the Historic Preservation Division that caused the problems by its failure to follow the burial council's ruling, so he sued the division and the Department of Land and Natural Resources.