Niu Valley residents uneasy after rockfall
A home sustains slight damage and a fence is knocked down by the rumbling rock
It was Noel Bragg's lucky day.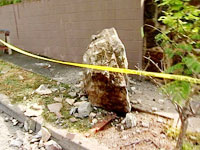 Residents are concerned it could happen again.
The Niu Valley resident usually parks his car on the street between his house and his neighbor's.
Yesterday, though, his car was parked elsewhere when a 4-foot boulder came crashing down, missing his house by several feet before smashing through his neighbor's fence and stopping on the curb, next to his usual parking space.
"I've already decided I'm always going to park my car on that side of the street," he said.
At about 7 a.m., Bragg, who had moved in over the weekend, was unpacking his belongings when he heard "this horrible tumbling noise, like all kinds of stuff was falling down somewhere."
He ran into his carport, thinking his stuff stacked against a wall was falling.
"I turned in time to see the boulder crash through this wall," he said. "It was like a machine gun or mortar fire. All these big chunks of rocks went flying out."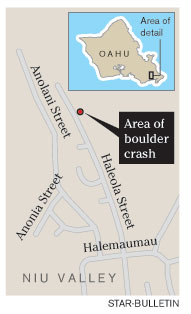 The boulder rolled down from Kulepiamoa Ridge, sideswiped a wooden home at 6041 Haleola St., crashed through a wooden fence and cinderblock wall and landed on the sidewalk.
There were no injuries, and city workers blocked off the sidewalk before removing the boulder.
The homeowner, Gary Morita, did not return calls for comment yesterday.
The fence was dislodged and hung loose for most of the morning until workers hammered it off and onto the sidewalk around noon yesterday.
City and state records indicate the land above the house is owned by Niu Conservation Group LLC, a company associated with auto dealer James Pflueger and his family. King Kamehameha I gave Niu Valley to Pflueger's ancestor Alexander Adams, a close adviser to the king.
Owen Phillips, the agent for Niu Conservation, declined to comment.
Some neighbors worried about another rock that appeared perched on the rocky ridge of the steep hill behind the homes.
Local sports announcer Jim Leahey, who lives a few houses down, said his daughter watched the rock roll horizontally across the hillside before heading down toward the homes.
"It's like a giant Plinko game," he said, "and the tragedy is it could be lethal."
Leahey said the hill had seemed solid, but now people are worried.
"There's always that danger, I guess, and today's one of (those days)," Leahey said.
In November 1956 a 1,000-pound boulder loosened by torrential rains smashed into a Niu Valley home, stopping short of a bed on which a woman was sitting.
A girl was injured in October 1992 when a boulder smashed through her family's Niu Valley home.