| | |
| --- | --- |
| | Island Mele |
---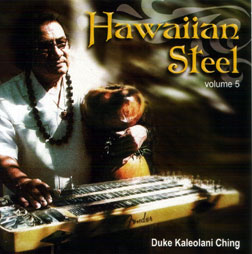 "Hawaiian Steel Volume 5"
Duke Kaleolani Ching
(Keala)
Steel guitarist-record producer Greg Sardinha continues his "Hawaiian Steel" series with this album showcasing expatriate islander Duke Ching. Local music historians might remember Ching playing here in the early 1960s, but he now lives in California. Relatively few steel guitarists have been recording in recent years, and Ching's increased visibility with this album should send fans searching for the five others he released there.
Ching's work here is all a fan could ask for. The selections are all Hawaiian or hapa-haole standards, and the arrangements emphasize the traditional languorous sound that has become synonymous with 20th-century Hawaiian music. From "Hula Blues" to "My Sweet Sweeting," Ching does beautiful work. Sardinha provides most of the minimalist instrumental backing on acoustic six-string guitar and bass but never lets them intrude on Ching's performance.
Lyrics aren't an issue on an instrumental album, but Ching should have listed the tunings he uses (important information for steel-guitar fans) -- and perhaps shared his insights on the pros and cons of playing a triple-neck instrument as well.
---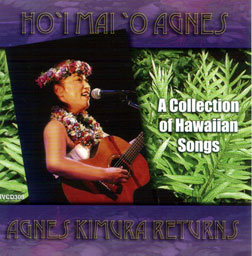 "Ho'i Mai 'O Agnes"
Agnes Kimura
(Island Viking)
Japanese entertainer Agnes Kimura's productive professional relationship with multifaceted Hawaii music man Keith Haugen is revisited in this anthology of 14 songs that were apparently culled at random from four previous projects. Whatever the criteria for selecting them may have been, the resulting collection includes convincing examples of Kimura's prowess playing slack key ("'Opihi Moemoe") and ukulele ("Queen's Jubilee"), and also as vocalist who performs in Hawaiian, English and Japanese.
Among them are several that also document her work as a composer working in tandem with Haugen or on her own.
A hapa kepeni arrangement of "Koko Ni Sachi Ari," sung in Japanese with ukulele accompaniment, brings to mind Israel Kamakawiwo'ole's hapa-haole version of "What A Wonderful World," but seems more imaginative in concept -- for Hawaii, anyway.
Kimura's instrumental interpretations of Hawaiian standards confirm her command of both instruments. A slight but noticeable Japanese accent does not detract from her overall performance when she sings in English or Hawaiian.
All that's missing is information about the tunings she uses and the personal significance of the songs.
---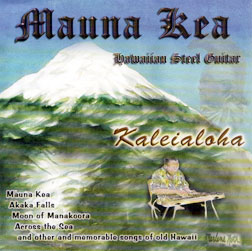 "Mauna Kea Hawaiian Steel Guitar"
Henry Kaleialoha Allen
(Rainbow)
Steel guitarist Henry Allen pays homage to his childhood on the Big Island, and to the hapa-haole music of the Territorial Era, with this collection of island standards. Hawaiian steel guitar is often as not played in a nahenahe (sweet, melodious) style, but Allen's approach here is exceptionally soft and sweet. His arrangements bring to mind the "back-porch style" of slack key, played first and foremost for the enjoyment of the artist -- nahenahe indeed!
Allen's leisurely exploration of "Moon of Manakoora," originally a Hollywood hapa-haole hit of the '30s, is one of the best examples of his approach. Allen opens with the familiar melody but takes off on several melodic tangents before returning to it. "Lepe Ulaula," often known in a recent years as an uptempo number, is similarly reworked in imaginative and unpredictable ways.
Tunes by Sam Koki ("Paradise Isles") and Andy Iona ("How D'ya Do") are also revisited in memorable style.
John Berger
, who has covered the local entertainment scene since 1972, writes reviews of recordings produced by Hawaii artists. See the Star-Bulletin's Today section on Fridays for the latest reviews. Reach John Berger at
jberger@starbulletin.com
.