Jobless rate hits 3.9%
Hawaii's jobless rate inched up to 3.9 percent in July, the highest since October 2003, as businesses continue to lay off workers to adjust to the slowing economy.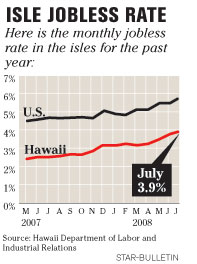 The seasonally-adjusted unemployment rate rose 1.3 percentage points from the July 2007 rate of 2.6 percent and 0.1 percentage point from last month's 3.8 percent, according to statistics released yesterday by the state Department of Labor and Industrial Relations.
Hawaii's labor force last month totaled 664,700, with 26,150 unemployed statewide. That compares to 17,050 jobless in a total work force of 647,600 a year earlier.
"We do have unfortunate circumstances, but a 3 percent and 4 percent unemployment rate is still really low," said James Hardway, special assistant to the director of Labor and Industrial Relations. "It's an unreasonable expectation to think you're going to have an unemployment rate below 3 percent for the long term."
By comparison, the U.S. seasonally-adjusted unemployment rate rose to 5.7 percent last month from 5.5 percent in June and 4.7 percent a year ago.
"Hawaii's job numbers continue to reflect the effects of external economic conditions on our economy," said Colleen LaClair, deputy director of Labor and Industrial Relations.
In a separate measure of employment, total nonagricultural jobs fell by 3,100 month-over-month to 622,900. The trade, transportation and utilities sector was the hardest hit with 800 job losses, partially due to layoffs with the departure of Norwegian Cruise Line. So far this year, Hawaii has seen mass layoffs in the airline, cruise ship and hospitality industries, with recovery not anticipated until 2010.