Obama nets $1.3 million
He starts his day with basketball at his alma mater and ends with a hotel fundraiser
»
Obama's public image keeps Hawaii link distant
STORY SUMMARY »
Hawaii-born U.S. Sen. Barack Obama is expected to return to low-key vacation mode this morning after a fundraiser last night enriched his presidential campaign coffers by an estimated $1.3 million.
The gala event drew 500 to a $2,300-per-person dinner at the Kahala Hotel and Resort. An earlier reception for a smaller group cost $10,000 a head.
The presumptive Democratic nominee is scheduled to leave Oahu for Chicago on Friday after a weeklong visit that allowed him to spend time with his maternal grandmother and show his wife and daughters some of his childhood haunts.
Earlier yesterday, Obama played basketball at his alma mater, Punahou School, and ate lunch with family and friends at Magic Island.
Obama ordered more than $100 worth of burgers and fries at Kua Aina Sandwich Shop in Ward Centre.
---
FULL STORY »
With $1.3 million in fresh funds in his campaign coffers, Hawaii-born U.S. Sen. Barack Obama acknowledged last night that many Americans are coming up short on the American dream.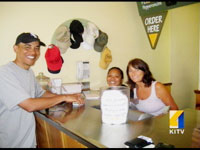 From alittle sun with his girls to playing ball, to having lunch at a popular spot-Obama had a full day before heading to his fundraiser Tuesday night.
Obama said that he has learned during his presidential campaign many people are struggling with the high cost of living and a lack of quality job opportunities.
"There are a lot of people who have done everything right and yet are still coming up short," Obama told supporters at the Kahala Hotel and Resort. "And over time, their faith in the American dream starts slipping away."
The presumptive Democratic nominee said there is something "fundamentally un-American" about the prospect that some people might not have the same opportunity to succeed as their parents or grandparents, referring to his own grandmother who lives in Honolulu.
About 500 people attended the fundraiser, paying $2,300 a person and $10,000 for a VIP reception.
Obama discussed many of his campaign themes -- an end to the war in Iraq, alternative energy, early childhood education, expanded access to health care -- as well as restoring people's trust in government institutions.
"We have, I think, presented a sense of what's possible," he said. "We've harnessed this energy that people want -- this energy to bring about fundamental change."
Obama was introduced by Mayor Mufi Hannemann, who said Hawaii would be sending Obama to the Democratic National Convention in Denver this month with the aloha spirit. Taking the stage with his wife, Michelle, Obama recognized many of his friends and Punahou School classmates who were in the audience.
"I've got friends here who have just been lifelong friends, people who have seen me through thick and thin, in tough times and in good times," he said.
Obama was back on the links today, leaving his Kailua vacation home about 7:30 a.m. for an early tee time at Luana Hills Country Club in Maunawili on the Windward side.
It's the second round of golf for Obama, who arrived in Hawaii on Friday for a week-long vacation. Obama played 18 holes Saturday at Olomana Golf Links, a public course that he also played on his last visit to the islands in December 2006. It was not immediately known who was in Obama's playing group today.
Punahou School was one stop in a busy day yesterday. Dan Hale, Punahou's basketball head coach, was among about a dozen former teammates and friends who played basketball with Obama at the Asa Thurston Physical Education Center.
"Let's just say he got the best of us," said Hale, who was not on Obama's team, when asked about the score.
Hale, Obama's teammate in 1979 when the school won the state basketball championship, said they hadn't played together in 20 years.
"We were chatting, and it was fun, like old times," he said.
After the game, Obama spoke with a number of school staff who came out to wave at him as he prepared to leave, said Punahou spokeswoman Laurel Bowers Husain. Obama last visited his alma mater in December 2004.
Clad in khaki cargo shorts, a gray T-shirt and black slippers, Obama stopped for lunch at Kua Aina Sandwich Shop in Ward Centre. There he greeted cashier Dione Remo, 26, with a smile, saying, "How are you?"
"I was just nervous," Remo said. "He was really nice, really patient."
People in line behind Obama did not seem upset as he ordered 10 kiddie burgers, eight one-third-pound cheeseburgers, six half-pound cheeseburgers (hold the mayonnaise) and 20 orders of fries. The bill came to $116.50, said Karen Hagen, the sister of co-owner Bryan Botelho. Into the tip jar went two $20 bills.
Obama took the food to Magic Island, where he was spotted about 2 p.m. under a banyan tree with about a dozen relatives and friends. Passers-by waved to Obama as Secret Service agents stood watch.
On a short trip to the beach, he took time to shake hands with a couple of people who greeted him.
"He was very polite," said Nicholas Delaunay of Waikiki.
Loretta Ramos, 54, of Ala Moana said, "I'm so glad I got a chance to meet him today."
Obama didn't venture into the water and returned to his spot under the tree, lying down in the middle of a large blanket.
From Star-Bulletin reporters Rosemarie Bernardo, Alexandre Da Silva and Nalea J. Ko and a media pool report.