| | |
| --- | --- |
| | Wood Craft |
---
Hannemann, Obama have basketball link
Hawaii-born
Barack Obama
appears to be enjoying his Hawaii vacation. I can't believe political foes criticizing his coming-home appearance at Keehi Lagoon after arrival Friday. It gave local folks a chance to see him. He would have been wrong not to get out there and speak to the island crowd. Sen.
Daniel Akaka
, Rep.
Neil Abercrombie
and Mayor
Mufi Hannemann
introduced the Democratic candidate for president at Keehi. Obama and Hannemann are graduates of Punahou and Iolani, respectively. Both played basketball for their schools. The mayor is 54, and Obama is 47, so they did not play basketball against each other in school. But they were on opposing sides on the court when Hannemann was coaching the Iolani junior varsity against the Punahou jayvees, according to
Bill Brennan
, the mayor's spokesman. Barry Obama, as he was known in those days, was on the Punahou team. It would be cool to have a photo of the mayor and the candidate playing a little one-on-one on the court. I'd have to pick Mufi, who is 6-foot-7 and starred in basketball at Harvard, in that matchup ...
SWINGING ON: Singer Jimmy Borges and Friends will cut loose in Starbucks Wildest Show in Town tonight at the Honolulu Zoo, 6 p.m. Jimmy will be backed by some of the best musicians in town - pianist Betty Loo Taylor, Gabe Baltazar on sax, drummer Noel Okimoto and bassist Steve Jones. The gates open at 4:35 p.m. and there is a small $2 donation. For info call 971-7171 ...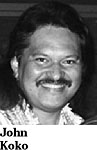 The Academy of Arts will have a New Orleans garden look for its Showcase fundraiser Sunday, starting at 6 p.m. Creole and Cajun dishes and jazz are on the menu. Call 532-6099 for $65 tickets and more info ... Brother Noland's hit, "Coconut Girl," is on the soundtrack of Columbia Pictures' "Pineapple Express" that opened Aug. 6 ...
John Koko of the Makaha Sons has been hospitalized in Kaiser the past two weeks after undergoing a heart procedure. Word from his brother, Jerome, is that John is in good spirits and a full recovery is expected. The Sons expect to return to their schedule at the end of the month.

But they had to cancel Saturday's Lokahi appearance, will reschedule their Hilo performance that was scheduled last Sunday and will postpone tomorrow's Moonlight Mele on the Lawn at Bishop Museum. The Sons and the Koko ohana thank everyone for their prayers and support ...
Congrats to Michael Tam, the new CEO of Martin & MacArthur. Tam is a 1975 St. Louis High graduate and a 1979 Northwestern grad. He most recently served as senior V.P. and marketing chief for Borders Bookstores, handling Borders' marketing nationwide. Tam replaces Lloyd Jones, who is retiring ...
Ben Wood
, who sold the Star-Bulletin in the streets of downtown Honolulu during World War II, writes of people, places and things in our Hawaii. E-mail him at
bwood@starbulletin.com