Strong women led Obama
The senator was raised by a mom and grandmother with pioneering spirits
»
Obama comes home
» Obama wows 'em at Oahu's Olomana
STORY SUMMARY »
At his homecoming rally Friday, Barack Obama paid tribute to his late mother, a single mom who sacrificed to ensure he received the best education. His next stop was to visit his 85-year-old grandmother.
These two strong women each were pioneers in their fields and helped shape the presidential candidate's outlook on life. "Like his mother, Barry is a pragmatic idealist," said Alice Dewey, an emeritus professor at the University of Hawaii and family friend. "If you have ideals and want to accomplish things, you've got to be pragmatic about it."
---
FULL STORY »
The key to presidential victory for Barack Obama might lie with white, working women like his late mother and his grandmother, a demographic group galvanized by Sen. Hillary Rodham Clinton in the primary.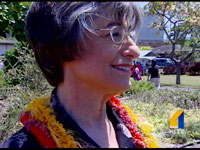 Governor Lingle understands why residents are thrilled to know he is here but firmly support John McCain.
His grandmother confessed that that even she felt a tug of kinship with Clinton while following the campaign on television in her Honolulu apartment, although of course she was rooting for Obama.
"You know, when I look at what Sen. Hillary Clinton is going through, when I see that instinct of hers to fight on behalf of those who need a champion, she reminds me a little of me," Madelyn Dunham told her grandson, Obama recalled as he reached out to a group of Clinton donors this summer.
Obama's support among women has grown since Clinton left the race, and the campaign hopes to build it further with its just-released "Blueprint for America's Working Women and Families." The document spells out how Obama intends to help women balance work and family, with pay equity, paid sick days, flexible work schedules, tax cuts for working families and affordable health care.
Such issues come naturally to the Hawaii-born Democrat. All his life, Obama has been surrounded by strong women who forged their own paths in the workplace while raising their children -- from his grandmother, to his mother, his sister and now his wife.
Obama sightings
Lucky enough to get a photo of Sen. Obama whille he is out and about during his vacation? Share it with our newspaper and online readers.

Send it to obamaphoto@starbulletin.com
"For Barry, it's like the air you breathe," said Alice Dewey, an emeritus professor of anthropology at the University of Hawaii and mentor of his mother's. "He's never known anything else. Here in Hawaii, the proportion of women working outside the home has always been high."
Obama's grandmother, a reserved, no-nonsense woman who helped raise him, started as a clerk at Bank of Hawaii in 1960 and quietly worked her way up to become a vice president a decade later.
His mother, Stanley Ann Dunham, was 18 when she gave birth to Barack and she had a tough time financially after her divorce. But she went back to college and ultimately became an anthropologist, working with poor villagers in Indonesia. His wife, Michelle, juggles her career and the role she cherishes most: as mother of their two daughters.
STORIES OF STRUGGLE
"He carries our stories, stories of women and our struggles, with him every day," Michelle Obama said as the "Blueprint" was released July 28.
While Michelle has been visible on the campaign trail, few people know much about his mother, who died of ovarian cancer in 1995 and his 85-year-old grandmother. A widow, Madelyn Dunham is ailing and declines press interviews, remaining cloistered in her Punahou-area apartment. But the lives of these two determined women offer insights into the presidential candidate's values and outlook -- from his grandmother's pragmatism to his mother's idealism.
"They're a simple family," said Georgia McCauley, a longtime family friend. "They're not pretentious. His grandmother's lived in the same two-bedroom apartment for 40 years. They never drove fancy cars. They chose to put their resources into education and travel. ... Their success was based on intellect and hard work, grandparents who sacrificed. It's the American story."
Madelyn and Stanley Dunham grew up in small-town Kansas. He joined the Army and she worked on a bomber assembly line during World War II. Their only child was born at Fort Leavenworth in 1942 and got her father's name, Stanley, because he'd wanted a boy. After the war, they struck out across the country and her gregarious father found work as a furniture salesman in Seattle while her mother joined a bank.
A BIT OF MOXIE
At Mercer Island High School, Stanley Ann Dunham stood out partly for her name, but more for her "really wonderful, drop-dead sense of humor," said Maxine Box, her best friend at the time. Added classmate Marilyn Bauer: "Anybody with the first name of Stanley, which is what we all called her, had to have a little bit of moxie."
The dark-eyed teenager also had a serious streak and a deep curiosity about life beyond their small island. She enjoyed slumber parties and going to football games with her friends, but "one had the feeling that she just wasn't as silly as the rest of the high school girls," said classmate Marylyn Prosser Pauley.
"She was a thinker and a questioner, definitely a questioner," agreed Box, a retired teacher who now lives in Bellevue, Wash., a Seattle suburb 10 minutes from Mercer Island. "I think that because of her personality and her intellect that she was able to look at the wider, broader world, not just our little world that we were in. It really showed in what she pursued in her education and her life work. She chose to better the lives of women and children, before the rest of us got on that bandwagon."
After graduating in 1960, Stanley was accepted to the University of Chicago, but her father insisted she move with the family to Honolulu, because he didn't want her living on her own. Within a year, however, she had met and married a fellow student at the University of Hawaii: Barack Obama, a charismatic Kenyan with a philosophical flair who was the school's first African student.
"In those days, in 20-plus states, their relationship would have put them in jail," said U.S. Rep. Neil Abercrombie, who knew them both. "She was a remarkable woman. It was a statement of the kind of person that she was prepared to be."
Her parents weren't pleased at first, but they accepted the marriage, especially with the arrival of baby Barack in 1961. Two years later, Obama Sr. left his young family behind to study at Harvard, and the marriage failed. Dunham resumed college and raised her son with help from her parents.
She later married another student, Lolo Soetoro, and the family moved to Indonesia, his home country. Ann Soetoro, as she was then known, was intrigued by the intense multicultural mosaic of the Indonesian archipelago and traveled to remote villages to learn about traditional crafts, from textiles to ironwork.
Concerned that her son might miss out on an American education, she would rouse young Barry at 4 a.m. to home-school him for three hours before he headed off to the local school. By age 10, he'd exhausted those correspondence courses and she sent him home to her parents for fifth grade at Punahou School, with help from a scholarship. A year later, she and her daughter, Maya, returned to Honolulu.
OPENING DOORS
Back home, her mother was opening new doors for women. Madelyn Dunham was one of two women promoted to vice president at Bankoh in 1970, the first ever at the state's largest bank.
"They really paved the way for women in banking," said Dennis Ching, now president of Integrity Escrow & Title. "She was my first boss. We were afraid of her because she was so gruff. But she was a very warm person after you got to know her and you proved that you could do the job.
"The work ethic she gave me was, 'If you want to get ahead, you work hard and you work wise,'" he said.
Dunham became the primary breadwinner in her family. In Indonesia, her daughter was learning that the economic role of women in rural areas was also crucial to their families' success. She, too, was a pioneer of sorts. Her focus was in the emerging field of "micro credit," working with banks and other institutions to help poor villagers, many of them women, start small businesses.
Before she died, Ann Dunham was research and policy coordinator for Women's World Banking, a New York-based nonprofit that supports a global network of microfinance institutions. She had earned a master's and a Ph.D. in anthropology at UH, supported by scholarships from the East-West Center. When she returned to Indonesia for research in 1977, she let Obama stay with his grandparents to finish high school. But she came back to prod him into focusing on academics before college application time.
"I cannot remember ever being with her when she didn't talk about him," said McCauley, who got to know her in Jakarta and continued the friendship in Hawaii. "All of her friends knew about Barry. We gathered that he was very sharp, very interesting and was going to be doing exceptional things. There was never any question about that."
Her friends see her legacy in her son's work organizing poor Chicago communities and in his approach to politics.
"Ann's work was almost entirely in villages," said Dewey, her friend and thesis adviser. "Barry found his feet in the streets of Chicago. It was urban, but it was the same thing, get out there to talk to people, listen to their needs and try to put together something that will work. Like Ann, he was thinking, how do you help the folks who need it?"
They also see his mother's touch in Obama's optimism, warmth, eloquence and even his campaign mantra of "change we can believe in."
"His mother was a change agent," Abercrombie said. "He had only to observe his mother in her life actions to see that here was someone who believed she could change the world by her individual acts, whether it was marrying his father or trying to help poor women free themselves from the bondage of centuries."