| | |
| --- | --- |
| | Wood Craft |
---
Kneubuhl adds island music to book reading
The book signing Aug. 21 at Na Mea Hawaii by playwright
Victoria Nalani Kneubuhl

for "Murder Casts a Shadow" will be something special. There will be a group reading of three scenes in the book by the author and a couple of her friends, with songs performed by
Kuuipo Kumukahi
during the interludes. The signing "event" runs from 6:30 to 8:30 p.m. Victoria's murder-mystery takes place in 1930s Hawaii and starts out with Honolulu celebrating New Year's Eve 1934. While the partying is going on, someone steals the Bishop Museum's portrait of
King Kalakaua
and murders the curator. Mysterious deaths follow. A reporter and a playwright look for clues to find the killer and painting.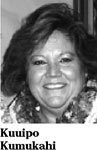 Victoria gives readers a look at Honolulu in the 1930s during their search. I will read this one because I was a small kid in the 1930s and recall a little about those Honolulu days. Other book signings, without music, are scheduled Aug. 16, 2 p.m., at Barnes & Noble Ala Moana; Aug. 23, noon, at Borders-Pearlridge; and Aug. 24, 2 p.m., at Borders-Ward Centre ...
Gavin Vinta pulled off a surprise 30th-birthday party for his wife, Kristian Lei, at Daynin Dashefsky's home last Saturday, with plenty of help from their friends. Kristian, Daynin and her daughter Briana, 10, Mihana Souza and some of Kristian's Honolulu Broadway Babies sang. Gavin and two pals, dressed in drag, performed a "Dreamgirls" skit. A good time was had by all ...
The Halekulani's La Mer has received a Best of Award of Excellence from Wine Spectator magazine. A happy Sabine Glissmann, the hotel's food and beverage director, singled out wine manager Randy Ching and sommelier Kevin Toyama for the restaurant's extensive wine list and menu pairings. "It is an honor to receive such a respected industry award," Sabine said. "To be the only Oahu restaurant to receive this recognition is a true testament of La Mer's culinary team, in particular, Randy and Kevin" ...
Singer-songwriters Dorothy Betz, guitarist, and Les Adam, keyboard, have produced a CD called "Drive On." It includes a song, "Hitchhike Highway," with lyrics by none other than the Star-Bulletin's Maui writer Gary Kubota. Gary thought he was writing a delta blues song, but the melody galloped west, he said. Gary adds that Betz wrote soulful lyrics for "The Day Ray Charles Died," and "An Old Woman's Tale," describing a girl's shattered life because of child abuse. The songs are available for download at betzandadam.com. Adam has backed Willie Nelson, Kris Kristofferson and Los Lonely Boys. Gary plays harmonica and sings in a garage band in Kula that he says has an almost soundproof garage door ...
Ben Wood
, who sold the Star-Bulletin in the streets of downtown Honolulu during World War II, writes of people, places and things in our Hawaii. E-mail him at
bwood@starbulletin.com