Lingle questions trip to Florida for educators
STORY SUMMARY
|
READ THE FULL STORY
The governor is demanding information on trips taken to Florida by hundreds of Hawaii educators that cost an estimated $1.2 million.
In a letter Monday to Board of Education Chairwoman Donna Ikeda, Gov. Linda Lingle asked for the board's position on the travel by 651 employees to a conference in Orlando June 22-25.
School officials said the trips likely were planned well before Lingle ordered all state departments to lower operating expenses by 4 percent on June 23.
ALEXANDRE DA SILVA
FULL STORY »
Citing the state's weakening economy, Gov. Linda Lingle is questioning an estimated $1.2 million that public schools spent to send hundreds of educators to a summer conference in Florida.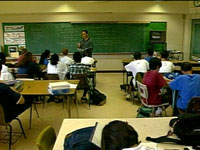 The governor wants to know how much money was spent.
The travel took place in June when the Board of Education had been deliberating how to cut some $9.2 million from its budget to comply with state spending restrictions, Lingle noted in an letter sent Monday to school board Chairwoman Donna Ikeda.
Lingle, who ordered all state departments to lower operating expenses by 4 percent on June 23, wanted to know how much it cost the Education Department to fly 651 employees to the Model Schools Conference held June 22-25 at the Walt Disney World Swan and Dolphin Resort in Orlando.
"I am also asking for the (school) board's position on this matter and your policy on future conferences that might involve significant commitments of DOE resources," she wrote.
Ikeda said schools have been sending staff to the annual conference for years, and principals have told her the gathering helps teachers improve their curriculum.
"The inference is that the money was wasted, and I don't believe that's true," she said yesterday. "Hawaii suffers from a stigma of being a resort town, and yet when we send people to Disney World ... to Orlando, the same kind of criticism is made. Well, that's pretty hypocritical."
Education Department spokeswoman Sandy Goya told the Star-Bulletin on Wednesday that the 177 schools whose staff attended the four-day educational meeting likely chose to use their campus money, federal funds or both to pay for the trip well before budget cuts happened.
"Probably when these decisions were made, Hawaii was not in the economic strains it is in now," she said, estimating some schools may have committed to the trip up to six months in advance.
Lingle said 6,954 people attended the Florida conference, meaning that almost 10 percent of participants came from Hawaii.
Based on room and airfare rates, Lingle said, each Hawaii educator must have spent about $1,900 to attend the meeting, not including per diem and other reimbursable expenses they might have received.
The Education Department is waiting for schools to report back on how much they spent, Goya said.
In a June 30 memo to schools, Superintendent Pat Hamamoto, also citing the slowing economy, said the department would begin limiting out-of-state trips by schools to travel required by the U.S. Department of Education or to comply with federal programs.
The rules, which took effect July 1, will remain in place until Sept. 30, when the Education Department will review whether they can be discontinued or if additional cost-saving measures are necessary.