| | |
| --- | --- |
| | Island Mele |
---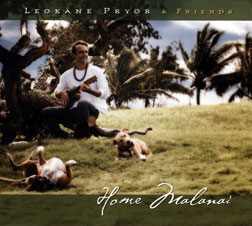 "Home Malanai"
Leokane Pryor & Friends
(Naupaka Productions )
The survival of the traditional "hard copy" album as a creative concept, and also as a sales unit, rests in large part on projects like this one. Legal downloads are a quick and convenient way to get individual songs, but Pryor's album is more than the musical sum of its tracks. He explains in the liner notes that his songs tell the story of his life experiences here, on the mainland, and coming home again. Their order is important, of course. Add lyrics, English translations and the album art, and there's much more here than downloads provide.
Pryor makes a great first impression singing falsetto on "Hana no ka 'Oi," and he puts his falsetto signature on most of the selections that follow. All are nicely done, but "Ke Ho'olono Nei" has a tranquil charm that stands out and demands attention.
Pryor shares vocal duties with two guests on "Honolulu I'm Coming Back Again" as he adds a hapa-haole standard to the collection. "Why Can't We Be In Love" proves that he is also an expressive pop vocalist.
---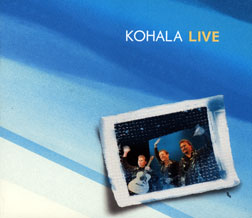 "Kohala Live"
Kohala
(Palm)
This album from Grammy Award-winning record producer Charles Michael Brotman could make him the first person to also win a Grammy in the Hawaiian Music Album category as a performer. All the winners in the category to date have been producers, but if this album wins the Grammy would go to the group -- founding members Brotman and Charlie Recaido, and Rupert Tripp Jr.
Win or not, "Kohala Live" is significant for having been recorded by Joey Wolpert and Paul Krieling at their concert venue/recording studio, the rRed Elephant, late last year.
Tripp does a good job in the spot originally occupied by Kevin Tevis. The current lineup -- Kohala 2.0, if you will -- explores an assortment of originals by Brotman and Recaido, and local standards popularized by Cecilio & Kapono and Kalapana, in excellent style. Each selection earns its place, and, but for a bit of applause on the fade-outs, you'd think these recordings were made with no one present but the three guitarists.
---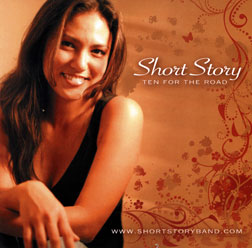 "Ten for the Road"
Short Story
(Stick Boy Productions)
The voice of Salli Morita is key to the commercial appeal of Short Story -- officially a duo consisting of Morita and acoustic guitarist David Kusumoto, but heard here with significant instrumental reinforcement from producer Jon Yamasato and a squad of studio veterans.
The added instruments make the songs more interesting than they would be if Morita were backed by a single guitar.
Kusumoto is the resident writer, but one of Morita's contributions, "Mr. Meredith," jumps out as an oblique yet easily recognized tribute to several civil rights pioneers. Morita's voice is also the all-important component to remakes of "It Doesn't Matter Anymore," "What a Wonderful World" and "At Last." The latter two have been done to death by local artists, but Morita's seductive delivery makes "At Last" worth hearing yet again.
John Berger
, who has covered the local entertainment scene since 1972, writes reviews of recordings produced by Hawaii artists. See the Star-Bulletin's Today section on Fridays for the latest reviews. Reach John Berger at
jberger@starbulletin.com
.