Council OKs rail vote bill
Members must still decide on the exact question to pose to voters on the ballot
The typically divided City Council was unanimous in supporting a measure to allow Oahu residents to vote on the city's proposed $4 billion rail transit on the November ballot, though members remain split on the exact question to ask voters.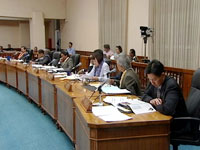 With the many people having mixed opinions on a having a transit system, the council committee may appoint a transit authority.
In a special meeting yesterday, the City Council discussed several versions of City Charter amendments to create a semiautonomous Public Transit Authority that would run the system and to let Oahu residents voice whether they want the mass-transit system at all.
"I'm going to go out on a limb and say I am 99 percent sure there will be a question for voters there," Councilman Todd Apo said.
The City Council held off on a measure asking voters whether the city should create a Public Transit Authority to run the proposed 20-mile elevated system from Kapolei to Ala Moana. However, it voted 9-0 to advance a separate measure asking Oahu residents whether the city should build the transit system at all.
After the city clerk ruled last month that a petition initiative to block the city's project could not be on the November ballot according to the City Charter, the City Council began examining ways to create a charter amendment.
Stop Rail Now filed a lawsuit yesterday in Circuit Court, asking Judge Karl Sakamoto to interpret the City Charter and to force the city clerk to process its petition after collecting nearly 50,000 signatures. The group's hearing is scheduled for 9 a.m. next Thursday.
While the City Council postponed a decision yesterday, it expects to hold another special meeting next week before taking a final vote on Aug. 20. Charter amendments require six votes on the Council and Mayor Mufi Hannemann's approval. If Hannemann vetoes the measure, the Council cannot override it.
There are several versions of the bill, with some councilmembers favoring the administration's proposal to give the transit authority more power, while others say the City Council should have more oversight over an un-elected body.
City Transportation Services Director Wayne Yoshioka stopped short of saying Hannemann would veto the measures that would place more restrictions on the transit authority. "Our concern ... is that it takes away much of the autonomy that is important for the transit authority to function," he said. "If it is in its current form, the administration would have very much difficulty in supporting it."
Councilman Charles Djou said, "I do not support a transit authority. I don't believe it is needed in Honolulu. A transit authority can make sense if it is going through multiple municipalities and states."
Councilman Gary Okino said having a transit authority is crucial to a successful transit system, making it more efficient by taking politics out of most decision-making. "It's not about jurisdiction, but the ability to operate effectively and efficiently at the least cost for residents of Honolulu," he said.
Apo is in favor of a charter amendment that would lump the issue of a transit authority and the mass-transit system together.
But Council Chairwoman Barbara Marshall said it should be two questions. At first the City Council favored the charter amendment asking voters whether they want a "rail transit system" or a "steel-wheel-on-steel-rail" system, the technology selected by Hannemann.
Councilman Romy Cachola proposed changing it to a generic phrase, "fixed guideway system," to provide more flexibility in the technology selection for possible future segments.